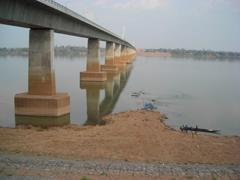 LAOS: Watched by Malaysian Prime Minister Najib Tun Razak and Laotian Deputy Prime Minister Thongsing Thammavong, a contract was signed in Vientiane on November 5 for construction of a 220 km railway running east-west across Laos from the Thai to Vietnamese borders.
Under an agreement with the Laotian government worth US$4bn – US$5bn, Malaysian firm Giant Consolidated Group will manage construction of the double-track electrified line. It would start in Savannakhet on the Mekong river and run to the Vietnamese frontier at Lao Bao.
Although the second Laos-Thailand Friendship Bridge is located just north of Savannakhet carrying road traffic between the two countries, it is unclear whether the railway would be linked to the Thai network. However, Thailand's Office of Transport & Traffic Policy & Planning submitted proposals earlier this year for a 336 km railway from Ban Phai to Nakhon Phanom, close to the border with Laos.
The Savannakhet – Lao Bao line would not intersect with the separate north-south route from Vientiane towards Kunming, construction of which will be funded through Chinese loans.