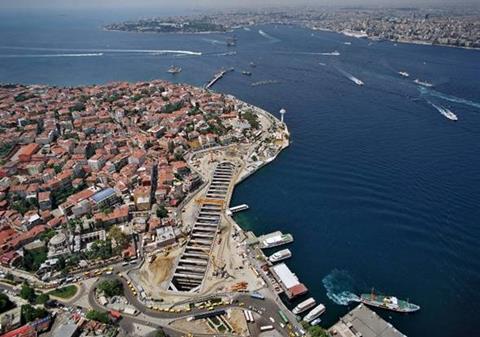 TURKEY: Prime Minister Recep Tayyip Erdo?an joined ceremonies in Istanbul on October 13 to mark completion of the immersed-tube tunnel which will carry the Marmaray rail link under the Bosporus.
After removing the last seal from the final segment, Erdo?an was able to walk through the tunnel linking Europe and Asia, accompanied by other guests. 'We have just brought both sides of the city together', he said, pointing out that the vision of a railway under the Bosporus dated from 1860.
The US$3·5bn Marmaray project includes nearly 10 km of bored tunnel and 2·4 km of cut and cover tunnel, as well as the 1·4 km tube section which lies in a trench at a depth of 58 m, making it the deepest immersed tunnel in the world.
The undersea section is formed from 11 concrete segments 60 m long, weighing up to 19 000 tonnes each. These were fabricated in two dry docks at Tuzla and floated to the site using a launching catamaran. The last segment was put in place on September 23.
Being led by the General Directorate of Railways, Harbours & Airports at the Ministry of Transport (DLH), the Marmaray project is being financed by loans from Japan Bank for International Co-operation, the European Investment Bank and the Council of Europe Development Bank.
DLH has appointed Avrasyaconsult, a joint venture of four consultants led by Pacific Consultants International of Japan as project engineer, in association with Parsons Brinckerhoff.
Marmaray also involves upgrading and three-tracking the existing railways to create a high-capacity cross-city route between Halkal? on the European side and Gebze in Anatolia, which will be used by suburban, inter-city and freight trains. Three underground stations are being built, along with 37 new or rebuilt surface stations.
A new inter-city station is to be developed at Yenikap?, which will replace the existing termini at Sirkeci and Haydarpasa, and will also be served by an extension of the city's metro network.
Around 250 km of track will be laid or renewed, along with the 25 kV electrification equipment. Two new depots are planned to maintain the fleet of 44 10-car EMUs which are to be ordered shortly. Design capacity is 75 000 passengers/h in each direction at peak times, requiring average loadings of 3 500 passengers per train.
The line is now expected to open for revenue service in 2012-13, and the Prime Minister hopes that it will provide considerable relief to Istanbul's chronic traffic congestion, which 'creates great stress every day'.
DLH forecasts that Marmaray will increase rail's market share from 3% to around 27%, which would put Istanbul on a par with Paris and London. Target journey time for the 76 km from Halkal? to Gebze is 105 min, with the Bosporus crossing taking just 4 min.