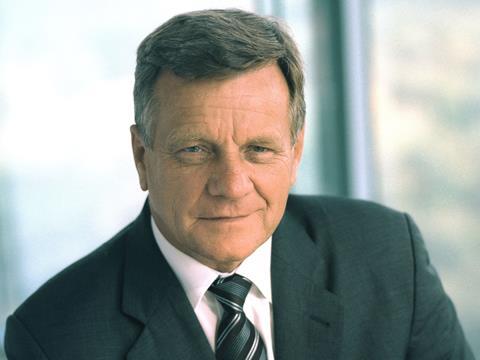 GERMANY: The controversy over accusations that Deutsche Bahn had undertaken covert surveillance of its own staff claimed its most high profile victim on March 30, when Chairman & CEO Hartmut Mehdorn tendered his resignation.
Although by the end of the day Mehdorn's offer had not been formally accepted, it was widely reported that he had lost the support of both Federal Transport Minister Wolfgang Tiefensee and Chancellor Angela Merkel.
DB had insisted that the internal surveillance activities undertaken on more than 170 000 staff in 2002-03 were part of a tough anti-corruption drive to root out impropriety in contracts between the group and its suppliers, but further revelations over the weekend of March 28-29 showed that the company had also monitored its employees' contact with journalists and politicians.
Nevertheless, speaking at the end of a news conference to announce DB's annual results, Mehdorn insisted that his conscience was 'clear' and stressed that the authorities had found no evidence of illegal activity on the part of DB's management.
However, Mehdorn had been under pressure at the helm of Germany's largest publicly-owned business even before the data scandal broke. The deferral of the plan to float a 24?9% stake in DB Mobility Logistics in the wake of the global credit crisis had weakened his position, whilst the group faced several high profile industrial relations disputes in 2008-09. The mass withdrawal of the ICE3 and ICE-T fleets for ultrasonic axle checks following the derailment of an ICE3 trainset near Köln in July 2008 only added to the pressure.
Mehdorn, 66, became DB Chairman in 1999 and has overseen a doubling in the group's turnover since then. The company has expanded aggressively both in its core rail operations business and also in the wider logistics and services sectors. In fiscal 2008, DB's earnings before interest and tax grew 4?8% to reach €2?5bn, with revenues up by 6?8% to €33?5bn. But Mehdorn acknowledged the recession was already affecting the business, with revenues down by around 7% in the first quarter of 2009. 'There's an icy wind blowing in our faces and we don't know if it will grow into a hurricane', he told the news conference.
Mehdorn himself suggested that his successor would be in place by the summer, and local media reports have already linked Thomas Enders, CEO of Airbus, with the role.