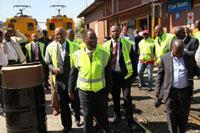 SOUTH AFRICA: Bid documents are now being made available by Passenger Rail Agency of South Africa as it seeks to let two 10-year contracts for the design, manufacture and maintenance of electric multiple-units. PRASA expects to order an estimated 7 224 cars over the next 20 years to replace the aging Metrorail fleet.
'Today we formally invite manufacturers of rolling stock in South Africa and all over the world to submit their bids to build metro coaches estimated at R123bn', said Transport Minister Dr Sibusiso Ndebele, speaking at Metrorail's Braamfontein depot on April 19. 'Government has opened the bid to private-sector companies to encourage growth and job creation in our country, this is a milestone in passenger rail investment which will see a significant change in the quality of public transport as a whole'.
Bidders will be required to attend a compulsory briefing session on May 9, with bid proposals to be submitted by September 10. Deliveries of the new EMUs are expected to commence in 2015. According to PRASA Group CEO Lucky Montana, the government has set a '65% localisation target' as part of the bid conditions.
'We have already started preparing for the new trains not only to complement government's contribution, but also to improve our stations and customer experience as a whole', said Montana. 'We have set aside R25·9bn of our own money over the next three years to invest in infrastructure development at station level'.