The signing of a Memorandum of Understanding in Brussels on March 17 paves the way for rapid deployment of ETCS on priority corridors across Europe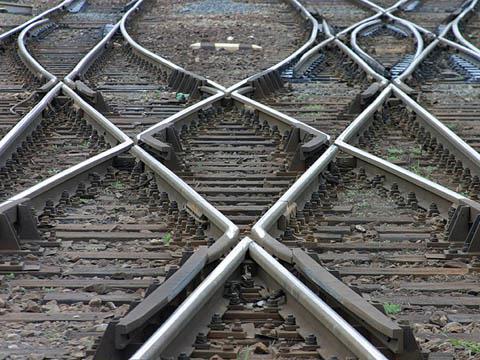 A MAJOR milestone on the long road to achieving uniform train control and communications across Europe was marked by the formal signing of a Memorandum of Understanding on ERTMS Deployment in Brussels on March 17.
The five signatories are the European Commission (DG Tren), UIC, CER (train operators), EIM (infrastructure managers) and Unife (equipment suppliers).
The MoU defines the contributions that each body or group is expected to make over the next 18 months, at the end of which there is intended to be an EU Master Plan for delivery over 10 to 12 years of what is currently called the ETCS Net. This requires the installation of ETCS Level 1 or 2 on at least 21000 km of defined international passenger and freight corridors, and also ensures that trains using those routes are equipped to use it.
Opening a conference in London on ERTMS implementation strategies two days earlier, Dan Otteborn, Chairman of Unisig, representing the ETCS signalling suppliers, announced that trials on two ETCS pilot lines in the Netherlands during the previous week had demonstrated compatibility between on-board and trackside equipment manufactured by Alstom, Bombardier and Siemens. 'It worked perfectly', he insisted, noting also that 'the cost has gone down and the reliability has gone up.'
The next step, expected this month, is for the EC to appoint an ERTMS and Rail Corridor Co-ordinator. Karel Vinck, until recently Chief Executive Officer of SNCB, has been tipped for this post. Later this year, the European Rail Agency is expected to establish an ERTMS System Authority, which will take over from the European Interoperability Association (AEIF) responsibility for managing the technical evolution of ETCS and GSM-R standards.
This is expected to be a continuous process, with the move from ETCS V2.2.2 to V3 already in progress (RG 1.05 p29). The pace of change in IT is such that new variants are expected on roughly a five-year cycle, with backwards compatibility only to the previous version. This suggests that each version will have a working life of around 10 years.
Inception Kernel
For the rail industry, the top priority now is to complete the mandatory 'Inception Kernel'. This jargon simply refers to the first group of lines where ETCS will go live for real, not just at Level 1 where it provides ATP to enforce compliance with lineside signals, but particularly at Level 2. Opening of the high speed line between Roma and Napoli in December will provide a crucial test here, because unlike TGV Est (right) no back-up signalling is being provided.
There is mounting anxiety in the Netherlands over the three projects where ERTMS should go live in 2007: HSL-Zuid, the Betuwe Route for freight, and Amsterdam - Utrecht quadrupling where ERTMS interfaces with the Dutch ATB dating from the 1960s. Jos Holtzer, Infrastructure Planning Manager for NS Reizigers, told the London conference that the High Speed Alliance was 'very nervous about what will be available' for their trains on HSL-Zuid in 2007, as was the Dutch transport minister. One major freight operator has 'threatened to quit' if forced to spend €200000 to €400000 to retrofit each locomotive so that its trains can be diverted onto the Betuwe Route.
The MoU commits the rail industry to developing plans for the corridor routes which make up the ETCS Net, using an agreed methodology, and converting these into a series of National ERTMS Implementation Plans which their governments are expected to endorse before the end of 2006. The Commission will then weld these into an EU Master Plan for ERTMS to be delivered within 10 to 12 years.
It is accepted that very substantial national and EU funding will be required to deliver this vision, with train operators and infrastructure managers already wringing their hands over the difficulty of making a business case for wholesale fitment of rolling stock on top of replacing existing signalling. But there was another factor that emerged at the London event that could in the end make the task easier.
Antonio Colaco of DG Tren attributed the failure by IKEA to run its own trains (RG 12.03 p755) to the huge cost of purchasing on-board equipment to interface with what are now obsolete ATP systems. IKEA Rail discovered the original manufacturer was 'no longer interested in supplying a legacy system', he said.
Holtzer was adamant that 'there is no business case for retrofitting the existing NS fleet for ERTMS.' But at the same time, he admitted that the only supplier for relay-based ATB is Alstom, which is already having an impact on pricing. The signalling majors have made a big investment in ETCS, and as they increasingly gear up to supply a truly open market with standardised equipment, their interest in supporting 'legacy systems' apparently with no future is rapidly fading.
Trials start with TGV Est signalling
LAST MONTH saw delivery of a set of signalling equipment to the railway test centre at Valenciennes in northern France. It is here that the signalling and train control equipment for TGV Est Européen (RG 3.05 p147) will be checked and tested - although trials at the maximum line speed of 320 km/h must await completion of the first section of the new line.
RFF and SNCF awarded contracts worth €31·3m for supply of the TGV Est Européen signalling equipment to CSEE Transport, part of the Ansaldo Signal International Group, in 2003-04. These cover development, engineering, validation, supply and installation.
The 300 km first stage of the line between Vaires-sur-Marne and Baudrecourt is being fitted with both TVM430 cab signalling, as on other French high speed lines, and with ETCS Level 2. Under a separate contract, German Railway is to fit the 128 km from Saarbrücken and Ludwigshafen with Level 2 which will operate in tandem with PZB inductive train control and legacy signalling equipment. The intention is for TGV Est Européen to serve as an international testbed that will allow various combinations of ETCS/ERTMS and conventional signalling and train control to be tested in commercial service.
Wayside equipment will consist of UM71 jointless track circuits and SEI computer-based interlockings which will be connected to the ERTMS radio block centres, plus eurobalises, LEU encoders and associated tools. The trial equipment sent to Valenciennes consists of two RBCs and one European Vital Computer, together with a simulator and other items. Delivery of all wayside equipment to RFF is due to be completed by mid-2006.
Revenue services on TGVEst are due to start in mid-2007. The line will be operated by a fleet of 36 TGV Réseau trainsets which will work domestic services using TVM430 cab signalling, plus 15 Paris-Ostfrankreich-Süddeutschland' trains for international services.
The POS units will be formed with new trivoltage power cars able to run in France, Germany, Luxembourg and Switzerland, and they will be fitted with 'bi-standard' ERTMS-TVM equipment developed by CSEE Transport. This will be able to read messages sent by the TVM430 installation or ERTMS signals sent by eurobalises and the RBC via GSM-R. In addition the POS units will be equipped to operate with LZB and PZB inductive train control in Germany, KVB in France, and ZUB and Integra in Switzerland.
Prototype bi-standard ERTMS-TVM equipment was installed in a domestic TGV trainset in July 2004 for testing. The architecture is designed so that it can operate in a simplified configuration as a specific transmission module for the TVM equipment.