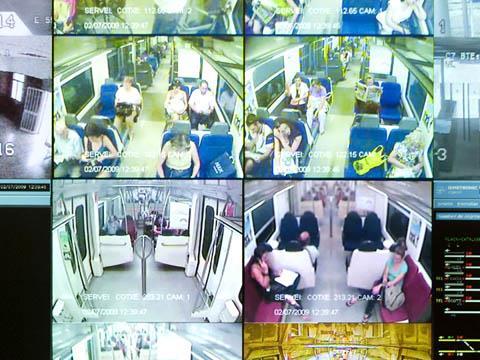 CCTV: Transmission of live security camera images and diagnostic data, plus multimedia passenger information and wi-fi access, are part of the roll-out of broadband links on trains operated by Catalan regional rail operator FGC.
The technology has been developed over two years by FGC and Alstom at a cost of €2·6m. Broadband has been installed on 64 trainsets, providing 16 MB links covering 14 km of the urban sections of FGC's lines from Barcelona to Terrassa and Manresa.
The system will initially be used to expand CCTV coverage. Large video-walls at FGC's Ruí control centre show a random selection of live images from onboard cameras, or staff can select a specific camera to view. The activation of an alarm will switch the view to the camera closest to the incident.
FGC said the roll-out of the system represents a step forward in safety for passengers, as security staff can now react to an incident more quickly. It should also deter vandalism, as has already been seen at stations where CCTV is installed. The control centre's constant access to live information from onboard systems will also improve the quality of response to incidents.