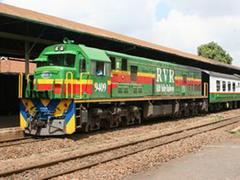 KENYA: Kenya Railways signed a joint venture agreement with InfraCo on April 15 commissioning a two-year study into a major upgrading of commuter rail services in Nairobi. Implementation of the recommendations would take a further 18 months, for completion in 2012 when national rail concessionaire Rift Valley Railways loses the exclusive right to operate passenger services around the capital.
Estimated to cost KSh8bn to KSh12bn, the upgrade would see the metre gauge commuter network expanded from 61 km to 170 km. Additional services would be provided on the lines to Thika, Nakuru and Athi River, and a new link would be built from the city centre to Jomo Kenyatta International Airport. Trains to the airport would run every half hour with the 17 min journey time being faster and more predictable than using the congested roads.
Locomotive hauled trains would be replaced by a fleet of around 196 DMU cars, increasing capacity from 19 000 to 100 000 passengers a day, and bringing a fall in the current rates of occupancy in - and outside - the 41 carriages currently in use.
InfraCo is an international infrastructure development trust owned by the World Bank and six European donor agencies. InfraCo will fund the US$5m study, then sell its stake in the joint venture to the private sector if the project is successful. If the project does not go ahead, the money will be treated as grant. 'InfraCo's willingness to take such a huge risk should tell you that the project is highly viable', said Kenya Railways Managing Director Nduva Muli.