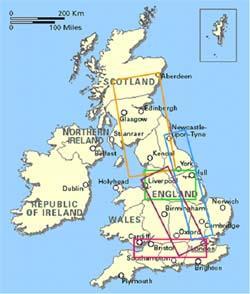 UK: Citing increasing capacity constraints and projections of strong growth in passenger and freight demand over the next 25 years, Network Rail announced on June 23 that it was launching a 'strategic review into the case for building new rail lines across the network of Great Britain'.
A team was established in April under the leadership of Richard Eccles, NR's Head of Route Planning, who explained the process to a seminar in Birmingham on June 13, organised by The Railway Forum to celebrate the completion of High Speed 1 between London and the Channel Tunnel, and promote High Speed 2 linking London to the West Midlands.
Eccles pointed out that in terms of rail passengers and freight growth 'the UK is leading Europe', and that the government's July 2007 white paper called for a 30-year strategy to fulfil 'an ambition to double today's passenger and freight volume'. Based on NR's Route Utilisation Strategies, he said demand is expected to exceed the capacity of the present network around 2025.
The study will consider the main corridors running north and west from London: the East Coast, Midland Main Line, West Coast, Chiltern and Western routes. It will be 'looking at the whole range of options, analysing and appraising the options, identifying which are best value for money, and then recommending the way forward based on that analysis.'
One feature flagged up by Eccles was that 'the amount of benefit gained with a high speed line is reduced by the transfer of benefits from the existing network'. But 'the additional benefit you can generate on the existing network might outweigh the transfer, [and] this could make a huge improvement in the business case'.
Meanwhile, high speed rail lobbying group Greengauge 21 has secured funding to develop a national construction programme for building 300 km/h lines. A Public Interest Group has pledged £750 000 to identify a national strategy and examine five routes: London - Birmingham - Manchester; London - Cambridge - Northeast; London - Bristol/Cardiff; Trans-Pennine; and Anglo-Scottish.
Greengauge 21 Director Jim Steer said the programme was 'designed to answer the questions that ministers and others raise about high speed rail. We start from a perspective that this is all about achieving sustainable growth for the economy of Britain as a whole, rather than just a narrow concern about capacity'.