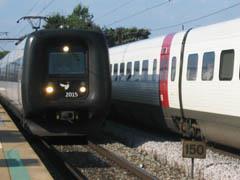 DENMARK: 'This is a milestone in Danish railway history, said Transport Minister Lars Barfoed after the main political parties approved the 'Modern Railway settlement on October 22, giving the go-ahead for a series of capacity enhancement projects including the construction of a new line from Ny Ellebjerg to Ringsted via Køge.
Barfoed said the 64 km line to increase capacity between København and Ringsted is 'the single most important investment in the domestic rail network in recent times.
Two approaches to accommodating growth on the busy corridor west from København had been considered in detail, the second being additional tracks on the existing alignment. Infrastructure manager Banedanmark welcomed the decision in favour of a new line, saying it offered significant advantages including minimising the impact on existing services during construction.
The double-track electrified line is expected to cost DKr10bn, with opening planned for 2018. Long-distance trains will be diverted onto the new line, with the existing tracks used to provide an enhanced local service. This will support the introduction of a national regular-interval timetable which aims to put the major cities an hour from each other.
Other investments agreed include double tracking between Lejre and Vipperød at cost of DKr1·3bn by 2015, enabling capacity to be doubled through better timetabling and shorter journey times. A DKr210m modernisation of Nørreport station in København will go ahead.
In Jylland the Vamdrup - Vojens section of the route to the German border will be doubled in 2011-15 at cost of DKr700m, and doubling is planned elsewhere.
The Taulov and Høje Taastrup freight terminals are to be upgraded and transferred from DSB to Banedanmark. Funding will also be available for port links in Esbjerg and Nyborg, subject to European and local contributions.