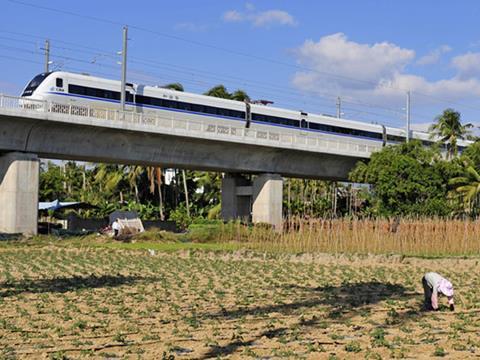 China has announced plans to build a 360 km high speed line between Qingdao and Jinan.
UITP launched the three-year New Tools for Design & Operation of Urban Transport Interchanges research project on May 13. Nodes is supported by a consortium of 17 European partners.
A freight train between China and Poland arrived in Lódz on May 10, having departed Chengdu on April 27. Kaztransservice and Transrail-BCH of Belarus plan to run 33 services this year and 44 in 2014.
The Limfjorden bridge in Jylland reopened on April 29, more than a year after it was hit by a ship on March 28 2012 cutting off the northern part of the Danish rail network (RG 6.12 p67). A new lifting section has been installed by MT Højgaard to replace the damaged section.
Nepal's President Ram Baran Yadav approved an ordinance on April 21 paving the way for the formation of a Railway Board to oversee development of a national rail network.
Bangladesh's Prime Minister Sheikh Hasina inaugurated the Dhaka – Narayanganj commuter service on April 24. CNR Tangshan is supplying 20 three-car DEMUs to operate the service.
The UK's Department for Transport has published a database of mobility scooter models suitable for carriage on trains and other public transport.
After the European Commission ruled that protection for companies such as PR which were created through the restructuring of PKP constituted illegal state aid, Poland's parliament has approved legislation making it possible for train operators to be declared bankrupt. They may remain operational for six months to ensure service continuity. The law comes into force next year.
Czech open access freight operator Advanced World Transport has received a safety certificate to operate in Poland.
PKP Cargo has received safety certificatation for operation in a sixth foreign country, Hungary.