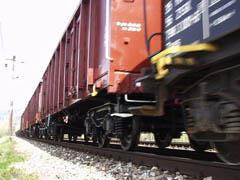 A consortium led by OHL ŽS has begun construction of an an €18m intermodal terminal at Žilina in Slovakia, partly funded by the EU. It is scheduled to open in January 2015, and ŽSR expects to handle 500 000 tonnes in the first year.
Taiwan Railway Administration moved its main rolling stock workshops from Taipei to Fugang near Taoyuan at the end of January. This will allow the old site to be cleared for an extension of Thsrc's Taipei – Kaohsiung high speed line to Nankang.
New South Wales Minister for Transport Gladys Berejiklian has announced plans to undertake 'comprehensive reform' of RailCorp, saying 'costs are going up at about three times the rate of the increase in passenger-journeys'. Costs increased by 30% from 2006-07 to 2010-11, and reform 'will put RailCorp in a more financially sustainable position'.
RailAmerica has agreed to acquire a 70% stake in the 60 km Wellsboro & Corning Railroad and freight handler Industrial Waste Group from Myles Group for $18m. It is also paying $40m to acquire Marquette Rail, which operates a 200 km short line in Michigan.
The 27 km of single track connecting Flamboin on RFF's Paris – Belfort route with Montereau on the Paris – Lyon main line was reopened for freight on January 29. Traffic on the line which has been closed to passenger traffic since 1939 is expected to include aggregates moving to Montereau for onward shipment by barge to Paris.
On February 5 the Israeli government formally approved the plans for a rail link to Eilat presented by Transport Minister Yisrael Katz in January (RG 2.12 p27).
Slovak freight operator ZSSK Cargo transferred 980 staff, 20 depots and other rolling stock maintenance assets it was allocated at restructuring in 2005 to its passenger counterpart ZSSK on February 1. The real estate is worth €57m, with €2m for shunting locos and €4m for other equipment. ZSSK estimates it will save up to 15% of overall costs following the transfer.
The European Commission announced on January 26 it was taking legal action against Bulgaria for failing to implement parts of the First Railway Package. It has referred infringements of the track access charge regulations to the European Court of Justice.
Approval has been granted for the merger of German inland port and rail operators Häfen und Güterverkehr Köln and Neuss-Düsseldorfer Häfen to form RheinCargo.