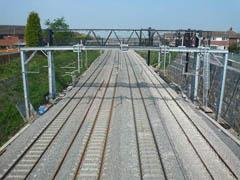 The Czech government has reached an agreement with the Praha city and regional authorities for the construction of a KC28bn rail link to Praha Ruzyne airport by December 2013. A PPP model is proposed, with funding to upgrade the existing line to Kladno to come from the privatisation of the airport in 2009. Metro Line A will also be extended from Dejvicka to the airport by 2018.
Complying with legislation which requires that spending by the national government in Catalunya should match the region's contribution to Spanish GDP, the Ministry of Development is to spend an additional €250m on railway projects, divided equally between upgrading the conventional network and station modernisation.
According to South African Transport Minister Jeff Radebe, a memorandum of understanding is being finalised between the departments of Transport and Public Enterprises and Transnet Freight Rail that will see tourist lines, branches and 'no service' routes transferred to the Department of Transport.
Responsibility for passenger operations on the 75 km electrified line between Zwolle and Emmen was transferred from Netherlands Railways to the provinces of Overijssel and Drenthe on May 19.
The Gatwick Express service linking London Victoria station with Gatwick Airport was merged into Govia's Southern train operating company on on June 22. The UK rail franchise had been operated by National Express, but was merged as part of a plan to make the best use of capacity on the London - Brighton route.
During June as agreement was signed to build a railway to link Kyzyl, capital of Russia's Tyva republic, with coalfields at Kuragino.
The Egypt-Sudan Railway Committee has been formed to promoted the construction of a 450 km link between the Egypt's 1 435 mm gauge rail network and the 1 067 m gauge system in Sudan.
South Africa's reinstated Kei Rail weekends-only passenger service ?between Mthatha and Amabele junction is to run daily from August 1, and an overnight train is to be introduced on Fridays (RG 6.08 p372). Refurbishment of the dormant 282 km line has made it possible for the Phelophepha mobile clinic train to visit Mthatha, providing rural communities with cost-effective medical facilities.
The Spanish Ministry of Development has issued a freight operating licence to Logitren Ferroviaria (RG 4.08 p222), which will be able to operate up 1 million train-km a year once it obtains a safety certificate. This brings to 10 the number of operators licensed to use the national network, including state railway RENFE.
Taiwan High Speed Rail Corp's services broke even for the first time during April, when 2·5 million trips were made. Services began in January 2007 (RG 2.07 p55), and will be increased to 140 trains/day this month.
The Zambian government has cancelled its agreement with North-Western Railways, which was to build a 350 km line from the Chingola railhead to serve mines at Lumwana. NWR earlier stated it had raised the US$250m needed, but US financiers threatened to pull out when NWR was unable to secure commitments from the mines to use the line. The government has indicated it intends to find another developer. Longer term plans would see the line extended to join the Benguela Railway in Angola.
On June 16 the governments of Liechtenstein, the Swiss canton of St Gallen and the Austrian Land of ?Vorarlberg signed an agreemnt to ?establish the FL.A.CH S-Bahn, which will provide half-hourly services between Feldkirch and Buchs. Longer-term plans would see services extended to Sargans SG, Chur and Bludenz.
Australian Rail Track Corp has introduced centralised traffic control on the Muswellbrook - Gulgong line in New South Wales, under a project to ?increase the number of paths and allow faster cycle times for coal trains. ARTC Chief Executive David Marchant said it represented a significant boost for the coal industry in the Hunter Valley and would result in greater volumes being transported.
On June 6 Transport Scotland began seeking expressions of interest in building 2 km of new track and upgrading 9 km of existing line under the Glasgow Airport Rail Link project. A contract worth up to £130m is expected to be placed in mid-2009, for completion in 2011.
Short line holding company Patriot Rail Corp is to acquire Louisiana & North West Railroad Co, which operates a 110 km line between McNeil, Arkansas, and Gibsland, Louisiana, in the USA. L&NW also leases a 11 km branch line between McNeil and Magnolia from Union Pacific.