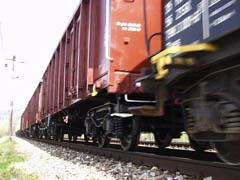 Following the completion of a major modernisation programme, last month Russian Railways transferred Moscow Kurskaya station to the BFM-Kursky subsidiary of Mirax Group under a five-year management concession. 'Kurskaya railway station will become the pride of Russian Railways and Moscow', said the head of RZD's stations department, Sergei Abramov. Passengers 'will be offered high quality services based on the best world analogues',
The Channel Tunnel was fully re-opened to traffic on February 9, following repairs after the September 11 fire (RG 1.09 p22). Eurostar was due to begin running a full service on February 23.
The 5·3 km link between the high speed lines to Barcelona and Sevilla opened to traffic on January 10, removing the need for through services to reverse at Madrid Atocha and cutting 1 h from journey times.
On January 18 Czech Railways launched 25 kV electric services on the 37 km Ceské Budejovice – Nové Hrady line. Work undertaken by EZ Praha at a cost of KC909m included upgrading tracks, two bridges and stations and resignalling with an AZD Praha Type ESA 11 interlocking. Wiring of the short cross-border section to Gmünd is due by July 2010, and electrification of the 55 km Ceské Velenice – Veselí nad Luznicí single-track line is also planned.
Following the decision to delay completion of Israel Railways' fast link to Jerusalem until 2014, US$260m which had been allocated for electrification will instead be used to speed up construction of the planned line from Ashqelon to Be'er Shiva' via Sederot and Netivot.
As part of its response to the global economic crisis, EBRD is providing Ukrainian Railways with a US$62·5m loan to fund a wagon renewal programme which could not be financed from other sources. The French government is providing €350000 to improve the efficiency of operations and maintenance, and will recommend upgrades to wagon tracking systems.
Government funding for the £75m second phase of the East London Line extension from Surrey Quays to Clapham Junction was announced on February 12, with completion planned for 2012.
Last month a Japanese team completed a study into the feasibility of reviving suburban passenger traffic on the Karachi Circular Railway, putting the cost at US$872m to be funded through a 40-year loan from Japan.
The Albanian government is reported to have received no bids for a proposed concession to manage the national rail network.
The 750 m Merri Creek bridge was opened on January 27, as part of the A$52m Clifton Hill Rail Project to remove bottlenecks on the suburban network in the Australian city of Melbourne.
Indian Railways launched passenger services between Mazhom and Baramulla on February 16, two days after a ceremony marked the completion of another stage of the project to link Kashmir with the national rail network (RG 9.08 p707). The 18 km from Anatang to Qazigund will follow in the next two months, but the connection to the rest of the network has been delayed by construction difficulties.
Following the clarification of guidelines on state aid for European railways last year (RG 6.08 p343), the European Commission has approved a plan by the Czech Republic to fund interoperability projects over five years. 85% of the €40m cost will be met from the Cohesion Fund.
Construction work is underway on the A$309m Southern Sydney Freight Line, a 36 km link from Macarthur to Chullora which will provide 24 h access to Port Botany from early 2010 (RG 7.08 p438). A curfew currently excludes freight trains from commuter routes during peak periods.
On March 1 Kei Rail is due to launch daily passenger services between Amabele near East London and Mthatha, exactly a year on from the introduction of a weekend service on the 282 km route in South Africa (RG 6.08 p372).
Union Pacific, BNSF and CSX have stored approximately 107000 wagons or 17% of their combined fleets because of slumping traffic. UP reported a 12% drop in volumes for the fourth quarter of last year and 18% during the first three weeks of January.
In an effort to reduce operating costs, Russian Railways has begun operating trains of up to 9 000 tonnes from the Kuzbass coalfields to the Baltic ports.
Canadian National's acquisition of Elgin, Joliet & Eastern Railway from a subsidiary of United States Steel was completed on January 31, although the deal still faces court challenges from communities along the EJ&E resisting higher levels of freight traffic.