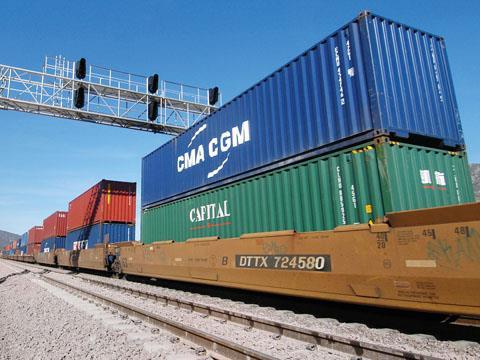 BC Iron has signed an agreement to use Fortescue Metals Group's railway and port infrastructure in the development of iron ore mining at Nullagine. The Pilbara Infrastructure subsidiary of FMG will provide rail haulage.

Last month the European commission cleared DB's purchase of PCC Logistics, the largest private-sector rail freight operator in Poland.

Around 320 km of Mozambique's Sena line from Beira is now open for freight as far as Sena. The 3·7 km Dona Ana bridge over the Zambezi sabotaged in 1985 has been rebuilt, and reconstruction has advanced 100 km north in the direction of Moatize.

The German parliament has approved the Fehmarn Belt fixed link treaty with Denmark.

In June the European Investment Bank and KTZ signed a memorandum of understanding to co-operate in the identification of projects within the Kazakh national railway's Rail Reform Strategy which are eligible for bank financing.

The European Commission has approved €1·3m of Italian start-up aid over three years for a rail service which aims to encourage road to rail modal shift for freight between the Port of Napoli and Nola Interport.

The first extension to Cape Town's Metrorail suburban commuter network for 22 years opened on June 9. An intensive shuttle is being operated on the 4·5 km double-track line from Khayelitsha to Kuyasa, pending a recasting of the timetables in October.

On June 11 transport ministers from Sweden, Denmark, Germany, Austria and Italy signed a letter of intent setting long-term development objectives for the ERTMS priority deployment Corridor B from Stockholm through Hamburg and München to Napoli.
Rail strikes last month followed the Thai government's approval of plans to restructure State Railway of Thailand into infrastructure and operations businesses.
The Tours – Angoulême section of the LGV Sud Europe Atlantique high speed line that will connect Tours with Bordeaux received its déclaration d'utilité publique on June 12, enabling construction to begin. Negotiations are underway between the French government and local authorities over public funding for the €7·1bn route to Bordeaux, with the remaining 50% to be provided by the eventual concessionaire (RG 10.08 p759).
Montenegrin infrastructure manager Zeljeznicka Infrastruktura Crne Gore has become an associate member of CER, and Spanish railway FEVE a full member, bringing the total membership to 74.
CER, EIM and UIC are to establish a Joint Technical Office in Brussels, with the aim of avoiding duplication when representing the rail industry to European institutions including the European Railway Agency.
On June 1 Passenger Rail Agency of South Africa launched its fifth Business Express higher-quality commuter service, connecting Pretoria and Johannesburg.
Under its 2009-15 investment programme for the Madrid suburban network, the Ministry of Development has called tenders for studies of the extension to Soto del Rey and a new underground alignment between Pinar and Majadahonda (RG 6.09 p9).
On May 29 Austrian regulatory authorities licensed Westbahn AG as a rail operator. The company plans to launch Wien - Salzburg open access services in December 2011.
Named Victoria Kent after Spain's first female lawyer, a new station was officially opened on June 13 in Málaga on the suburban route to Fuengirola. Replacing a temporary facility at San Andrés, it is part of a €144·6m to project to place 1·9 km of route in tunnel as far as the main station, María Zambrano.
Five new members joined UIC last month: McML Group (India), HIZTAS (Turkey), AFER (Romania), Harsco Rail (UK), and associate member TFG (Romania).