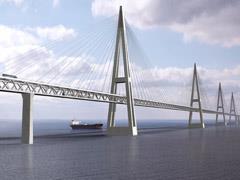 The European Commission has approved a funding and loan guarantee from the Danish state to finance planning of the Fehmarn Belt fixed link. It determined that this does not fall under the scope of rules on state aid, and promotes a project of common interest. Denmark will provide public support for Femern Bælt A/S, a state-owned company established to undertake the DKr1·45bn planning phase which is expected to last for three years.
A 3·28bn yuan two-year project to build a 360 km railway between Hami and the Lop Nur salt flats in China was launched in June. The railway will serve coal reserves on the way to the former lake which is being exploited for potassium salts used in fertiliser.
The US Federal Railroad Administration issued a Notice of Proposed Rulemaking on July 16 covering the introduction of Positive Train Control. Under the Rail Safety Improvement Act approved last October (RG 11.08 p861), the major freight railways and passenger operators must submit PTC plans to FRA by April 16 2010, and have the equipment operational by the end of 2015. As well as specifying how PTC must function, the notice indicates how FRA will evaluate the plans. 'FRA is setting the bar high in terms of design, construction and oversight', said Administrator Joseph Szabo.
Blaming the drop in freight traffic, DB Schenker Intermodal and RZD have put on hold plans to run weekly container trains between China and Germany.
Last month President of the United Arab Emirates Sheikh Khalifa bin Zayed Al Nahyan approved a federal law establishing Etihad Trains Company as a government-owned organisation to develop the planned national passenger and freight rail network.
The Levensauer road and rail bridge over the Kiel Canal on the Kiel - Eckernförde line is to be replaced in 2012-14 at a cost of €47m, after a study found it would not be cost-effective to modernise the 115 year old bridge. Clearances for ships will be increased.
On July 10 the European Investment Bank and Andalusia's Finance Minister Carmen Martínez Aguayo signed a €200m loan to finance the construction of a 128 km section of high speed line between Sevilla and Antequera, where it will join the Córdoba - Málaga high speed line at Antequera Santa Ana station (RG 8.08 p477).
Following a framework agreement in January, on July 16 Russian Railways CEO Vladimir Yakunin and DB Chairman Rüdiger Grube signed an agreement to establish an educational and research centre for logistics and supply chain management. It will be based at St Petersburg State Railway University and St Petersburg State University in Russia, and at the European School of Management in Germany.
Transnet's long distance passenger rail business Shosholoza Meyl has been sold for a nominal R100 to Passenger Rail Agency of South Africa, which paid R500m to cover costs incurred by Transnet before the transfer. Prasa is a division of the Department of Transport, while Transnet falls under the Department of Public Enterprises.
The Indian government has approved the 33 km Bangalore airport rail link, to be developed as a PPP.
In July the Serbian government announced 2·1bn dinar of support funding which will allow eight rolling stock plants to refurbish 12 locomotives, 109 coaches and 500 wagons, ensuring capacity is used and wages are paid.
The Australian government has used its Nation Building Programme to fund a A$195m rescue package for Tasmania's ailing rail infrastructure, which the state is to buy back by November 30.
Greek Transport Minister Euripides Stylianidis announced the government's proposals for restructuring Hellenic Railways Organisation on June 24. Train operator Trainose and infrastructure manager Ergose would be separated out from OSE, which will remain responsible for property. Fares are to be raised by 33% this month, and double by 2011 bringing them closer to inter-city coach tickets. The aim is that Trainose should be profitable by 2012.
Privately owned company Reisezug-Verkehrsgesellschaft has launched an overnight service between Stuttgart and Berlin, using stock leased from Centralbahn.
Spanish infrastructure authority ADIF has brought into service 10·5 km of new alignment between Xàtiva and La Pobla Larga on the route between Albacete and Valencia. The route cost €92m to build, including a station at Manuel-L'Enova, and enables seven level crossings to be eliminated.
The Namibian cabinet has approved plans to rehabilitate and upgrade infrastructure, including the 332 km from Kranzberg Junction to Tsumeb.