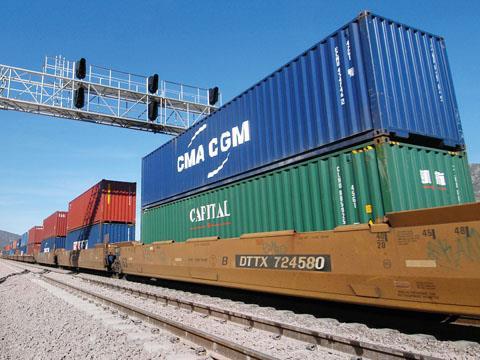 Tracklaying on the 295 km line from Jinghe to Yining and Korgas on China's border with Kazakhstan was completed last month. The 6bn yuan line through Xinjiang Uygur autonomous region is expected to open in November, and will connect with the China Gateway line opening in 2012.
On September 17 the Indian cabinet approved the use of a Rs177bn Japanese ODA loan for implementation of the Western Dedicated Freight Corridor. It is a requirement that the prime contractors must be Japanese firms.
An agreement is expected to be finalised this month for South Korean national railway Korail to buy Seoul airport rail link operator AREX for a reported US$979m, in a government plan to cut subsidies required for airport services.
The Tasmanian government and Pacific National announced on September 7 that they had successfully concluded 'lengthy and highly complex negotiations' for the state to buy back the island's rail network for A$32m. The transfer will be completed on December 1, with a new state company owning, maintaining and operating the 726 km network.
RailAmerica Contract Switching Services has been formed by short line operator RailAmerica to undertake shunting and track maintenance for industrial customers.
The first intermodal rail service to Dublin Port in six years began on August 20, with Iarnród Éireann running a twice-weekly train from Ballina for International Warehousing & Transport. Expansion is envisaged by the end of the year, and IÉ said the service opens the door for other companies to use rail to the main lift-on/lift-off port. A similar service runs from Ballina to Waterford for DFDS.
Chinese official media reports that preliminary work has been completed in advance of construction of the 250 km Lhasa – Xigaze railway extension in Tibet.
København S-tog trains are to run all night on Fridays and Saturdays under a six-month trial starting on November 20.
The rail service to Sheremetyevo airport launched in June 2008 was extended from Savylovaky to start at the more central Moscow Belorusskaya station on August 28. Aeroekspress passengers can also now buy Metro+ tickets allowing onward metro travel.
Watco's Boise Valley Railroad is to acquire two branch lines in Idaho totalling 60 km from Idaho Northern & Pacific.
The French region of Aquitaine is to provide a total of €1·14bn to fund the operation of TER local passenger services under a new 10-year agreement with SNCF running until 2018. SNCF President Guillaume Pepy said that the operator aimed to achieve 90% punctuality on the Aquitaine TER network.
Canadian Pacific has postponed indefinitely plans for a 450 km railway to serve Powder River Basin coalfields.
On August 25 RZD took control for five years of the Russian government's 50% stake in Ulaanbaatar Railway, now managed by the Infrastructure Development joint venture of RZD (50%), the former Mongolian national railway (25%) and state mineral company Erdenes MGL (RG 6.09 p30). Plans valued at US$6·5bn include US$3·9bn for new links from Dzüünbayan to Dalanzadgad and Saynshand to Bayantumen (Choybalsan) to exploit resources in the southern Gobi region and develop transit traffic.
On August 19 Keolis subsidiary Eurorail signed a contract with the Rhein-Ruhr and Ruhr-Lippe transport authorities covering the operation of Maas-Rhein-Lippe-Netz Regional-Express services for 16 years from December 13. The agreement covers operation of 3·3 million train-km a year using 18 Stadler Flirt EMUs.
The European Commission is to provide financial support for several stimulus projects in the Netherlands, including €7·9m for electrification of the rail link to Amsterdam Westhaven's Westport area and expansion of siding capacity to handle longer trains.
Announcing that N6bn owed to the Julius Berger Construction Co has been paid, Nigerian Minister of Transport Ibrahim Bio said work on the remaining 27 km of the standard-gauge Ajaokuta – Warri line stalled since 2005 will now be completed.
Ghana Railway Development Authority has invited bids to convert the 950 km rail network from 1067 mm to standard gauge, permitting 25 tonne axleloads and increasing speeds from 56 to 160 km/h. In the longer term, feasibility studies will look at introducing a suburban rail service from Accra to Kasoa, Winneba and Madina, as well as extending the railway to the north and connecting with the proposed Ecowas line across West Africa.
The US Federal Railroad Administration has released a $28m grant to continue pre-engineering studies for a proposed 87 km maglev connecting Pittsburgh International Airport to the city centre and the suburbs of Monroeville and Greensburg.