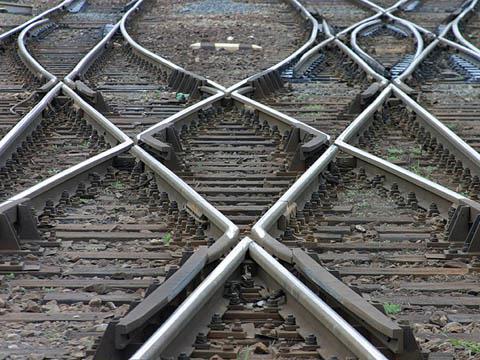 Following a review of 46 lightly-used routes Hungary's Transport Minister Péter Hónig has announced the withdrawal of passenger services from 33 lines totalling 1000 km from the December timetable change. The move is expect to save HF7bn. The lines will be retained for freight.
ADIF and RFF have formed a European Economic Interest Grouping to develop plans for a high-capacity central rail crossing of the Pyrenees (RG 6.09 p14). An existing EEIG is undertaking studies for a high speed link along the Atlantic coast between Vitoria and Dax that would also be used by freight traffic.
Following a survey which found that four out of 10 passengers on the Århus – København route were using laptops, music players and similar devices, Danish operator DSB added a function to its website enabling passengers to pay to download films at the same time as they buy their travel tickets from home. Free wireless internet access is available on København S-bane services.
Pakistan and China have agreed to form a joint venture which will undertake another study of the feasibility of constructing a 1100 km rail link paralleling the Karakoram Highway, which reaches 4700 m in the Khunjerab Pass.
PCC Rail has been renamed DB Schenker Rail Polska, reflecting its acquisition by the German group.
An initial two coal miners have agreed to use the Northern Missing Link, a proposed 69 km connection between the Goonyella and Newlands rail networks in Queensland (RG 12.08 p948). The state Premier described the A$1·1bn project planned for completion in 2012 as 'the Suez canal of the central Queensland coal industry.
EBRD is seeking consultants to develop a corporate governance strategy to increase the independence of Russian Railways Freight One subsidiary ready for an IPO planned for the medium term. The project is financed by German Federal Ministry of Economics & Technology, which requires the successful bidder to be German.
The Indian state of Gujarat has allocated Rs3·6bn for conversion of 600 km of line from metre to broad gauge within three years. Western Railway has long-term plans to convert around 2000 km.
Reconstruction of Ugandas 505 km line from Tororo to Pakwach via Gulu is being resumed at an estimated cost of US$2m. Work had been suspended owing to the insurgency in the north.
Last month the transport minister of the German Land of Rheinland-Pfalz presented plans to reopen a closed line from Langenlonsheim to enable the introduction of a train service from Mainz to Frankfurt-Hahn airport. The project is costed at €104m and could begin in 2011 for completion in 2014.
The government of the Nigerian state of Kaduna has spent N55·6m upgrading level crossings and stations on the 425 km Kuya – Gudi route and refurbishing two locomotives and eight coaches.
Work is now underway to build Belfort-Montbéliard station on the first phase of the LGV Rhin-Rhône high speed line in France, expected to open between Mulhouse and Dijon towards the end of 2011. The station is costing €36m, of which RFF is providing €11m.
Work has begun on the $40m construction of a dedicated rail terminal at the US port of Richmond in California to handle imported Honda cars for transport by BNSF.
The French competition authority has approved SNCFs plan to increase its stake in intermodal terminal and train operator Novatrans from 40% to 85%.
Chinese companies are reported to have expressed interest in rehabilitating Zimbabwes Harare – Chinhoyi line and extending it about 235 km to Chirundu on the Zambezi. It could be extended a further 100 km into Zambia to connect with RSZ at Kafue.
Zürich University of Applied Sciences launched a degree course in Transport Systems on October 28. Martin Künzli, Head of the School of Engineering at ZHAW, said the interdisciplinary programme is supported by a range of transport organisations including Bombardier and logistics group Kühne + Nagel.
Under a plan to simply operations, from the December 2010 timetable change BLS will take over responsibility for Luzern – Langnau/Langenthal regional services in Switzerland, while SBB will take over Solothurn – Moutier services.
Stern & Hafferl trains on the 26 km Haager Lies line from Lambach – Haag am Hausruck line in Austria will be replaced by buses from December 13.
On October 23 Australian Transport & Energy Corridor announced it had received a go-ahead from Queensland and New South Wales to proceed with co-ordinated planning of an A$900m standard gauge Border Railway between Moree and Toowoomba, with 195 km of new and 142 km of rebuilt line. Financial close is planned for 2011 and opening in 2014.