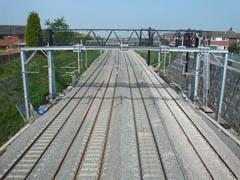 On December 11 Unife and UIC signed an agreement to jointly publish Technical Recommendations which will form voluntary standards applicable to European rolling stock.
Russia will become the 44th member of OTIF with effect from February 1. The Cotif convention governing international rail transport will initially apply between the port and station in Baltiysk, and from the Ust-Luga port to the station at Luzhskaya. Further lines may follow.
EU regulation EC 1371/2007 setting out passengers' rights came into force on December 3. It covers liability for passengers and luggage, insurance and non-discriminatory access.
The European Passenger Train & Traction Operating Lessors Association has been formed by train leasing firms Angel Trains (UK), Angel Trains International, HSBC Rail (UK) and Porterbrook Leasing.
Boise Valley Railroad in Idaho was launched on November 23. Watco Transportation Services subsidiary BVRR serves 84 customers shipping potatoes, timber, fertiliser and fuels on two leased UP lines totalling 60 km.
The full Southeastern High Speed domestic service between London St Pancras and destinations in Kent via High Speed 1 was launched by UK Prime Minister Gordon Brown on December 14. Preview services started in June.
On December 14 EBRD announced a €15m loan to Montenegro's rail infrastructure manager ZCG Infrastruktura to fund modernisation of the 57 km Niksic – Podgorica line. A €950000 grant is being provided by EBRD's Western Balkans Fund and the French government.
Saskatchewan Highways & Infrastructure Minister Jim Reiter formally opened the Canadian province's 10th short line on October 15. Last Mountain Railway received a C$1·6m provincial loan towards the C$5·1m purchase of a 108 km former CN route.
The NWRT Hungary subsidiary of Czech open access operator OKD-Doprava has bought a 90% stake in Hungarian private industrial railway Balatoni Iparvasút. The remaining 10% is held by freight forwarding company G.Transport 96.
Border checkpoints at Soyuznoye and Irtyshskoye have been closed under an agreement for Kazakhstan and Russia to transfer ownership of railways forming part of one country's network but cutting through the other's territory.
Oyster smart cards used on Transport for London metro, bus and light rail services will be valid for 'pay as you go' travel on rail services in Greater London from January 2.
Coalcorp Mining has begun carrying coal from its La Francia mine in Colombia to Santa Marta using its own wagons on the Fenoco line, in which the mining firm owns an 8·43% stake. Unloading is undertaken by Vale.
A further €293m for TCDD's Ankara – Istanbul high speed line project was included in Turkish infrastructure financing agreements totalling €718m signed by the European Investment Bank on December 10.
Through services between Beograd and Sarajevo were restored after an 18-year gap with the December 13 timetable change.
Czech competition authority UOHS has approved CD Cargo's purchase of a further 22% stake in CD Logistics from Viamont Cargo for an undisclosed price, giving CD Cargo a 56% stake.