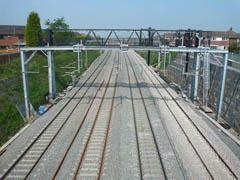 The Czech Export Bank has agreed to provide a €120m loan to Serbia for the modernisation of the section of Pan-European Corridor X between Nis and the Bulgarian border (RG 2.10 p46). Complete modernisation to be undertaken by a consortium of Czech and Serbian firms includes upgrading for 120 km/h running, resignalling and 25 kV 50 Hz AC electrification.
Dutch Transport Minister Camiel Eurlings has allocated €6·3m per station for the construction of new stations at Groningen-Europapark, Hengelo-Gezondheidspark and Barneveld-Zuid. Another at Westervoort may follow.
Testing has begun of a 110 km/h maglev at Incheon International Airport in South Korea. Commercial service on a 6 km route is planned for 2013 (RG 5.08 p296).
From June 3 Amsterdam is the second Dutch city after Rotterdam where the strippenkaart is withdrawn from metro, tram and bus services, making use of the OV-chipkaart smart card obligatory. Arriva has begun trials with OV-chipkaart on its Leeuwarden – Groningen train services.
Labrador Iron Mines Holdings has begun constructing a 4·5 km spur to link the Tshiuetin Rail Transportation line to a new iron ore processing plant near Schefferville.
Russian Railways has approved the public listing of up to 35% of its Transcontainer business.