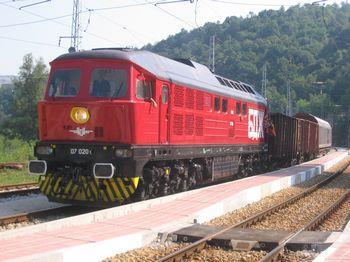 Last month the European Commission formally warned Bulgaria that it must implement First Railway Package legislation on track access charges.
Operations have resumed on Tanzania's Central line after US$11m of emergency repairs to flood damage caused by heavy rain in December.
Reviving electric traction on the 300 km Dabuka – Harare line will require nearly US$30m according to National Railways of Zimbabwe director Lewis Mukwada. Alternatives to copper cable are being explored in an effort to reduce theft. NRZ has begun installing a US$300000 satellite communication system along the Harare – Bulawayo route to railway to replace the obsolete microwave system.
A group of German and Dutch local authorities has selected DB Regio Westfalen to operate Netzes Westliches Münsterland passenger services from Münster and Dortmund to Enschede under a 15-year contract starting in December 2011. The routes are currently operated by DB Regio and Prignitzer Eisenbahn.
The Russian Railways board has approved the creation of an Institute of Economics & Transport Development subsidiary which will research management, economic planning and long-term development of the rail and general transport industries, replacing its existing Giprotranstei subsidiary.
A bill has been put before the Western Australia state parliament which will give Karara Mining Ltd legal powers to begin work this year on a 75 km freight line running west from Karara to Tilley, where it will join an existing line to give access to the sea at Geraldton. This will form the first stage of a plan to link iron ore reserves with the proposed port at Oakajee.
Almost 110 companies are reported to have collected pre-qualification documents for the design and project management contracts for a national mixed-traffic railway network in Oman. Phase 1 covers a double-track electrified line running 280 km along the coast from Suhar to Masqat with inter-city and commuter services, Phase 2 extends 520 km from Masqat to Daqm and Phase 3 is a 150 km link from Suhar to Al-Ayn in UAE.
After two years of planning, work is reported to have begun on the 600 km railway from the developing Iranian port of Chabahar to Zahedan. This will provide a corridor from the Gulf of Oman to central Asia. Iran and Tajikistan have signed a memorandum of understanding for studies into linking their rail networks via northern Afghanistan, enabling traffic from China and Kyrgyzstan to reach Chabahar.