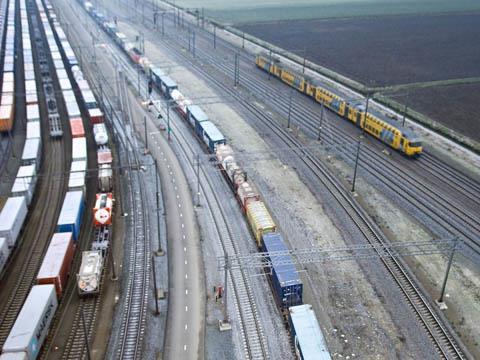 Unife and UIC have published Technical Recommendations for driver-machine interfaces in train cabs, describing basic functional and system requirements.
Rusk County Rural Rail District has acquired the 25 km Henderson – Overton branch in Texas from Union Pacific with a view to reviving freight traffic which ceased in August 2009.
A north-to-east connecting curve has opened at Geldermalsen to give a direct connection between the port of Amsterdam and the Betuwe Route dedicated freight line to Germany. There are now 40 trains/day using the Betuwe Route, a reduction in access charges having attracted freight from other routes to give the new line a 60% share of the rail market.
Weekly passenger service between Paraná and Concepción del Uruguay was launched on June 11 by Uefer, the rail agency of the province of Entre Ríos in Argentina. Operated with a two-car Materfer DMU (RG 1.10 p25), services will be free during a trial period running until the end of July.
The US Federal Railroad Administration has granted commuter railway Caltrain a waiver which will allow mixed operation of locomotive hauled trains and lightweight EMUs. Caltrain's electrification plan is not yet fully funded.
Spanish metre-gauge operator FEVE has brought into use 740 m of single track between Sotiello and Veriña, connecting the Avilés – Gijón and Gijón – Pola de Laviana routes. This this will avoid a reversal at El Humedal for 700 freight trains operated each year, mainly carrying steel products for Arcelor, and is complemented by a new north-to-east spur between the Pola de Laviana and Oviedo – Santander routes at El Berrón.
A letter of intent to ensure technical standards remain co-ordinated was signed by representatives of railways using 1520 mm gauge during the 1520 Forum in Sochi. Standards for certification of production processes and quality management are planned.
A long-anticipated C$640m overhaul of Toronto Union station formally began on June 4 for completion in 2015. It includes tripling concourse space so GO Transit can handle an expected doubling of passenger throughput by 2030.