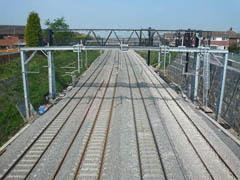 During the President of Ukraine's visit to China in September a framework agreement was signed under which China National Machinery & Equipment Import & Export Corp could provide up to US$1bn to finance construction of a rail link to Kyiv Borispol airport. An 8 km spur would be needed, with a fleet of electric trains. The Ukrainian government approved the project in July, and completion is envisaged for 2012.
The headquarters of the SBB Cargo International trans-Alpine transit freight joint venture of SBB and Hupac is to be situated at Olten, where around 100 staff will be based from the first half of 2011 (RG 8.10 p8).
A 35 km connection from Chipata in Zambia to Mchinji in Malawi was officially opened on August 27, linking Chipata with the Mozambiquan port of Nacala via Malawi. Construction began in 1982, but the Zambian government abandoned its 24 km section 10 years later owing to a lack of funds. The scheme was revived in 2006.
On September 8 East Siberian Railway and the Irkutsk government signed an agreement to establish a Baikal commuter railway business, owned 51% by RZD and 49% by the region. It will act as a ticket sales agent before becoming a stand-alone operator during 2011.
On September 9 the freight businesses of the national railways of Slovenia, Serbia and Croatia formally established Cargo 10, the equally-owned company based in Ljubljana which will manage freight traffic on Pan-European Corridor X (RG 9.10 p19). The first train was expected to leave the Slovenian capital on October 1.
In an effort to make better use of capacity, India's East Coast Railway ran an experimental double-length coal train of 116 hopper wagons to Paradip port during September.
Infrared detectors, CCTV and active signage will be tested at two sites in Queensland as part of a A$1bn low bridge protection programme which includes installing height gauges at rail bridges frequently hit by road vehicles.