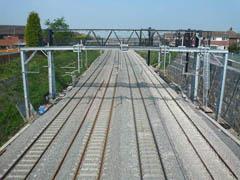 Indian Railways is to establish four biodiesel plants of 30 tonne/day capacity at a cost of Rs1·2bn, and will also undertake trials with natural gas powered locomotives.
TransNamib has launched a N$9·4m upgrading programme with the start of work to relay 13 km of the 240 km Windhoek – Kranzberg line with heavier rail meeting Southern African Development Community standards. Work is expected to be completed by June.
RENFE's Pecovasa subsidiary has begun trial movements of cars from Renault factories in Valladolid and Palencia to the port of Gijón for shipment to Saint-Nazaire in France. With portions combined at Venta de Baños to form a weekly 18-wagon train carrying 214 vehicles, the new flow is expected to save 1180 tonnes of CO2 a year.
Serbian Railways has announced a €150m loan from EIB to fund modernisation to enable 160 km/h running in Vojvodina, including track doubling between Stara Pazova and Novi Sad. The EU will provide a further €70m in pre-accession funding.
The Indian state of Kerala is to appoint consultants to study a proposed high speed line between Thiruvananthapuram and Manjeswaram on the border with Karnataka and close to Mangalore.
Danish transport authority Trafikstyrelsen is to call tenders later this year for operation of DMU services on the 48 km Odense – Svendborg and 60 km Odense – Fredericia routes under a contract running for eight years from December 2014.
The government is to provide Bulgaria's national railway BDZ with a 140m leva loan to fund restructuring and ensure the payment of staff until funds are available from a World Bank loan expected later this year.
DB has allocated €30m for repairs to the Müngstener Bridge, a national monument dating from 1897 which is the highest rail bridge in Germany at 107 m. Weight restrictions currently prevent freight and steam excursions using the steel structure.