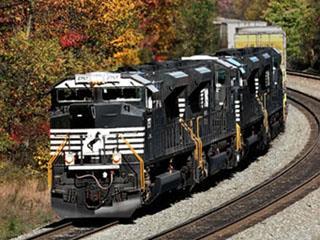 The EU's TEN-T programme is to meet 10% of the €29·6m cost of upgrading the Boden - Kalix line in northern Sweden and building 42 km of new line to the Finnish border by 2012.
On April 29 Norfolk Southern began construction of the $105m Memphis Regional Intermodal Facility in Rossville, Tennessee, to open in 2012 as part of the $2·5bn Crescent Corridor.
Mälardalstrafik Mälab has awarded SJ a SKr351m contract to provide regional passenger services from Norrköping and Hallsberg to Stockholm for five years from December 11.
On April 27 the African Development Bank board approved its 2011-15 Regional Strategy for Central Africa, which includes support for a planned road and rail bridge between Brazzaville and Kinshasa.
ALL is to begin work this year on a R$730m intermodal terminal which will be served by a 260 km railway under construction to Rondonópolis in the Brazilian state of Mato Grosso, for opening in 2012.
Passenger services on the 6 km branch to Veendam in the Netherlands were restarted after 58 years on May 1, with Arriva operating trains from Groningen.
The German Land of Mecklenburg-Vorpommern has given the go-ahead for detailed design work for reopening 12 km of the Darßbahn between Barth and Zingst by 2016.
The EU has awarded Slovenia €1·1m to fund half the cost of studies into upgrading the 14 km Poljcane - Pragersko line under TEN-T Priority Project 6.
Spanish national operator RENFE has opened a €92m suburban station at Intxaurrondo on the San Sebastián - Irún route under a programme to cover over sections of the railway through San Sebastián.