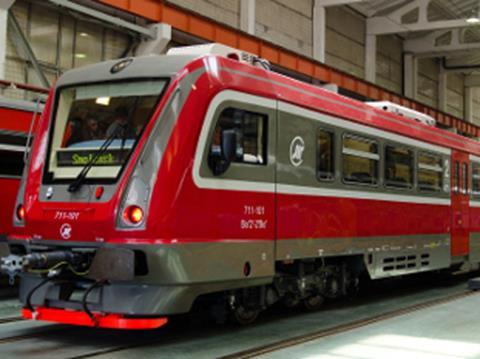 RZD International has signed a US$800m Russian-funded modernisation agreement with Serbian Railways. This includes upgrading 112 km of Corridor X and 200 km of the Beograd - Bar route, various track doubling and electrification projects and an US$100m order for a further 26 Metrovagonmash DMUs.
Argentina's government has signed agreements with 16 municipalities covering a 1·5bn pesos programme to replace 44 level crossings on the Buenos Aires suburban network.
The European Commission has approved €166m of cohesion funding towards a €330m upgrade and electrification of the line from Pragersko in Slovenia to Hodos on the Hungarian border.
On June 5 Russian Railways placed its first 25bn tranche of 30-year infrastructure bonds worth 100bn roubles. They are targeted at pension investors, with interest set at inflation +1%.
Passenger Rail Agency of South Africa has re-introduced a thrice-weekly Bloemfontein - Kimberley service.
Danish national passenger operator DSB has sold its former headquarters at Sølvgade 40 in København to Norden for DKr280m. Most headquarters staff are now based at Telegade 2.
Russian Railways and EBRD have signed a memorandum of understanding for co-operation in the development of high speed infrastructure, PPPs for station modernisation, and the development of transport and logistics activities. RZD will consider the use of EBRD financing.
Indian Railways' Thiruvananthapuram division has begun converting 384 level crossings to solar powered lighting.
Serbia and Hungary have agreed to upgrade the Beograd - Novi Sad - Budapest route to enable speeds of 160 km/h and possibly 200 km/h. The €1·5bn project would be funded using a loan from China.
Rail services using a new 4 km spur built at a cost of 16·3m złoty to access Szczecin Goleniów airport in northwest Poland began on June 8. Journey time from the city is 40 min.
The Dutch government has allocated €270m to rebuild the 'spaghetti of tracks' at Utrecht Centraal to reduce conflicting movements and the number of turnouts, and increase capacity.