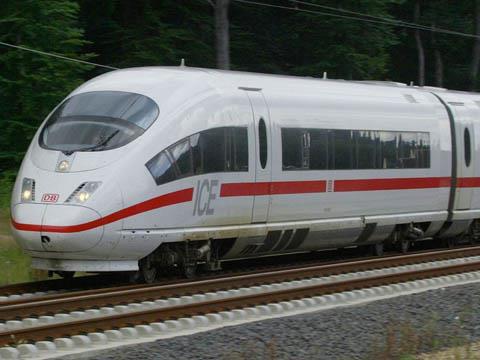 GERMANY: DB has signed a contract with Siemens for 15 more ICE3 trainsets. Inked by DB Chairman Hartmut Mehdorn and Siemens Chairman Peter Löscher on December 17 at DB's headquarters in Berlin, the deal is worth €500m.
DB's future ICE3 sets will be designed specifically for international services, which helps to explain the price tag of €33·3m per set. Able to run at 320 km/h, the eight-car trains each offering 485 seats will be assembled at the Siemens plant in Krefeld-Uerdingen. First delivery is envisaged in summer 2011, with some trains entering service later that year and all remaining sets handed over during 2012.
The trains will have axles with different dimensions from those installed on DB's existing ICE3 and ICE-T fleets. At the moment both types of train are having to undergo more frequent ultrasonic axle inspections than originally envisaged following a derailment caused by a broken axle on an ICE3 in July 2008 and the subsequent discovery of cracks in the axles of a number of ICE-T trainsets.
Commenting on the benefits to Germany's railway industry, Mehdorn said that the contract helped to secure jobs just when the economy needed more impetus. Löscher remarked that 'this order is an important milestone in the partnership between Siemens and Deutsche Bahn.'