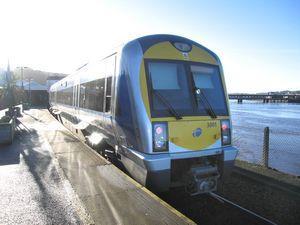 UK: Translink's new £1·7m operational training academy opened on February 19 at Adelaide in south Belfast. It was funded by Northern Ireland's Department for Regional Development and features driver and signalling simulation equipment.
A full-task driver simulator is complemented by a signalling simulator supplied by Manchester-based EDM that fully replicates three major signalling panels in Belfast, Portadown and Coleraine. It also includes an instructor station, a track builder tool and training room.
In addition, a competency management suite and temporary training facilities were refurbished. Speaking at the official opening ceremony, Translink CEO Catherine Mason said that the completion of the facility 'marks the latest stage in our overall strategy to improve training and simulation continuously within our rail operations division.'
More than 400 Translink employees will benefit from the new facility, including 124 drivers, 106 conductors and 44 signalling staff. At the new centre, typically, basic training takes 16 weeks for drivers and 12 weeks for signallers. Competency management for drivers takes two days, and six days for signallers. Safety briefings take three days for drivers and two days for signallers. These figures do not include practical training for each position and practical assessments carried out on the job.
Iarnród Éireann has expanded the training centre at its main works at Inchicore in Dublin. Equipped with 18 classrooms, the centre undertakes all operational training for traction, signalling and general operations, as well as non-engineering courses for staff across the whole of IÉ.