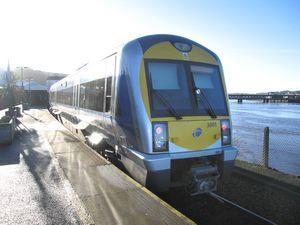 UK: A £105m order for 20 three-car diesel multiple-units was signed by Northern Ireland transport operator Translink, the Department for Regional Development and manufacturer CAF on March 25.
The first of the Class 4000 trains will enter service at the end of 2011, with all 20 in traffic by 2013. The design will be a development of the 23 Class 3000 units CAF supplied in 2005, with changes including better fuel efficiency. Delivery of the latest batch of trains will enable the withdrawal of 13 older Class 80 and 450 DMUs.
The Northern Ireland budget for 2008/09 to 2010/11 allocates £137m for projects on the province's 1 600 mm gauge rail network, including the train purchase. Associated works include a £12m project to extend track life between Ballymena and Coleraine. The construction of passing loops and upgrades to signalling will enable the provision of an hourly service between Belfast and Londonderry, while platforms will be extended to handle six-car trains. A new maintenance facility is to be created at the former Adelaide freight yard in Belfast, as NI Railways' York Road and Fortwilliam depots are nearing full capacity.
'These new trains will allow us to increase the capacity and frequency in order to meet the growing passenger demand and encourage even more people to take the train', said Catherine Mason, Group Chief Executive of Translink.