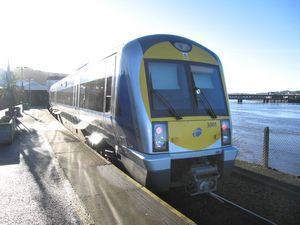 UK: An £86m upgrade of the Belfast - Londonderry line was announced last month by Translink, the holding company which runs Northern Ireland Railways. Tenders will be called in early 2011 and the work is to be completed in 2013, cutting 30 min off the 2 h 15 min journey time.
The 150 km route accounts for half of NIR's 1 600 mm gauge network. Funding will come from central government, with £63·2m to go on track and signalling, including relaying the entire line between Coleraine and Londonderry Waterside and constructing an extra passing loop. The price excludes bridge and signalling renewals and the current £12m track life extension programme between Ballymena and Coleraine. The plan also excludes station improvements, as some have already been upgraded in line with disability legislation.
Two of the 20 additional DMUs for which NIR has called tenders will be allocated to the line from 2011. According to General Manager Mal McGreevy, introduction of 23 three-car CAF units in 2004-05 resulted in significant growth, with ridership increasing from 6·57 million passengers in 2001-02 to 9·5 million in 2007-08.
CAPTION: The Londonderry line has seen a 49% increase in passengers over the last two years, to more than 1 million passengers/year.