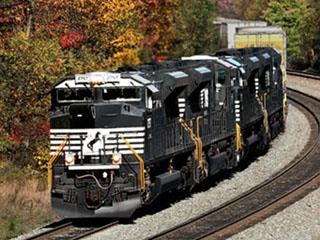 USA: 'The economic recovery in our business is well underway', reported Norfolk Southern Chairman, President & CEO Wick Moorman on May 13, addressing the company's Annual Meeting in Williamsburg. Noting that traffic volumes were growing back steadily, he said NS had been able to report financial results for 2009 which were 'much better than I had feared'.
NS was able to increase its dividends slightly and allocate over $1·3bn for capital investment, coming out of the downturn 'in as good or better physical and financial condition than we went in'. But although volumes were up on 2009, traffic in the first quarter of 2010 was still '19% below our all -time high volume in the first quarter of 2006', and 'there is a long way to go before we see the levels of economic activity of a few years ago.'
Highlighting 35% year-on-year growth in domestic intermodal traffic during April, Moorman said 'the fundamental forces which have driven so much of our success over the past few years are firmly in place'. These included overcrowded roads, 'systemically higher energy prices' and a shortage of lorry drivers, as well as growing shipper concerns about sustainability.
However, Moorman warned that this vision of a bright future could be blighted, because 'the attitude in Washington towards the rail industry these days is verging on schizophrenia'. The rail sector is continuing to fight efforts by 'a small, but well-funded, group of shippers who are attempting to alter the economic regulatory regime' although he reported that 'relatively few congressmen support any significant changes'. And he said the unfunded mandate to install Positive Train Control by the end of 2015 would cost $22 for every $1 of benefits, according to the latest government estimate.
On the other hand, there was a 'very positive' trend 'in Washington, in state capitols, and in broader public opinion' that rail must play a much stronger role in national transport policy for both freight and passengers. Earlier this year NS was awarded a $105m Tiger grant towards its Crescent Corridor initiative, and the company will also benefit from high speed rail funding to support investment over the next three years.
'The more our public policy leaders see our strengths and capabilities, the more they are convinced that rail transportation can and should do more', Moorman said. But it was equally important that they realise that 'legislative initiatives which could undermine our ability to do more are bad policy.' Nevertheless, he felt that the longer-term prospects 'remain very bright.'