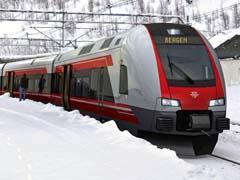 NORWAY: In the state railway's largest single rolling stock order, on August 18 NSB selected Stadler to supply 50 FLIRT electric multiple-units worth SFr640m, with an option for a further 100.
The contract is expected to be signed during September. The Swiss manufacturer will deliver 26 five-car trains with a 'long local' layout designed for trips of up to 1½ h by 2013. A further 24 five-car trains will be supplied for 'short regional' journeys of 1½ to 3½ h.
They will be built at Bussnang in Switzerland, the order bringing the total number of FLIRTs sold to 463 in 10 countries.
The five-car trains will have three powered cars instead of the two provided on four-car FLIRTs, and the design will be adapted for the harsh winter conditions. The wider Norwegian loading gauge will permit a body width of 3 200 mm, with the 'long local' units having 3+2 seating giving a total of 296 seats. The regional trains will have 231 seats in 2+2 arrangement, including 42 in first class.
Top speed will be 160 km/h, with provision for 200 km/h with minimal modifications.
Having won a SFr1bn contract to supply Swiss Federal Railways with 50 double-deck EMUs, Stadler is to expand its Altenrhein plant at a cost of SFr45m to become a centre of competence for double-deck stock, creating around 300 additional jobs. A new SFr25m plant in Oberwinterthur will become the Stadler Group's bogie centre, with an initial annual capacity of 600 bogies.