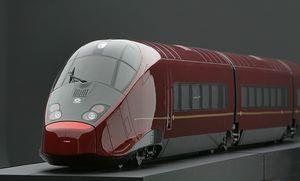 'Congratulations on your initiative!' Endorsing the public launch of Europe's first private-sector high speed train operator at a press conference in Roma on July 15, newly-appointed European Transport Commissioner Antonio Tajani welcomed the arrival on the scene of Nuovo Trasporto Viaggiatori.
'We cannot but be happy with the development of the market', he enthused, emphasising that the Commission 'will support all initiatives that will allow the market to develop'. The Commission wanted Europe's railways 'to grow out of the phase of problems' and enter an era of recovery - and 'recovery depends on competition'.
Tajani's words were not lost on his audience of around 200 people, who included ambassadors from several countries as well as numerous media representatives.
The arrival of a serious competitor for Trenitalia had been eagerly awaited from the moment NTV postponed its launch event - originally planned for February - pending the outcome of Italy's general election in April.
NTV Chairman Luca di Monte-zemolo announced that his company was starting out on 'an Italian journey'. Founded in December 2006, NTV had 'a different entrepreneurial matrix' with the shareholders (Table I) linked by friendship and sharing the same passion. 'Sometimes we have problems highlighting the positive things in our country', he said, but on this occasion there was a positive story to tell. NTV's business partners saw the train 'as the perfect means of transport … with energy efficiency as our pillar', he continued. The Italian government had invested around €40bn in the national high speed network, and di Montezemolo said that the more that this network was used, the more value would be derived from that public investment. NTV would give passengers a choice when they travelled, he said, adding that he expected to see 'other players invest in this field in the next few months'.
Di Montezemolo's comments on the business partnership were echoed by Corrado Passera of Intesa Sanpaolo which had taken a 20% stake in the company with €60m of investment on January 11 2008. NTV's partners 'believe in the long-term with a well-capitalised project that starts in a solid way', he said. Citing the success of opening up Italy's telecommunications market, Passera said that the decision to open up the national rail market was taken 'with great wisdom'.
Agreements signed
Chief Executive Officer Giuseppe Sciarrone outlined the milestones that NTV had already passed (Table II), including the critical step of obtaining an operating licence from the Ministry of Transport on February 6 2007. A framework agreement signed with infrastructure manager RFI in January 2008 had 'granted all the paths we asked for'.
All that was missing was the rolling stock fleet and a safety certificate, which NTV expected to secure in two to two-and-a-half years 'after the train we have bought has been certified', Sciarrone continued.
NTV's project was based on careful analysis of the potential market for high speed systems', Sciarrone said, noting that experience elsewhere in Europe indicated that construction of high speed infrastructure led to an improvement in rail's competitive position and an increase in the volume of traffic. For NTV, 'our forecasts suggest we will be achieving 33 billion passenger-km a year by 2015, with 30000 to 50000 passengers a day'.
NTV's fleet of 25 AGV trainsets, each of 11 cars offering 460 seats, included one spare set, with the fleet expected to cover 135 million km a year. The first set would be delivered in September 2010, and this would be used to obtain European certification. Under the contract with Alstom, four sets would be delivered by March 2011, with commercial services starting in the spring or early summer of that year. One condition of the contract was that 11 trains would be assembled at Alstom's plant in Savigliano in northern Italy, where 'a crisis' had existed because of a lack of orders.
The AGV fleet would be diagrammed to operate 54 services a day on three routes, competing directly with Trenitalia's Alta Velocità and Eurostar Italia services in similar timings at a maximum speed of 300 km/h (Table III).
Each day 16 return services are to link Milano and Roma, of which three each way will run non-stop in a 3 h timing. Four return trips a day will be made between Roma and Vene­zia, calling at Firenze and Bol­ogna, and three return workings will connect Roma with Bari in 3 h 55 min using the Roma – Napoli high speed line as far as Caserta. There will be 16 trains a day each way between Roma and Napoli. Sciarrone emphasised that NTV was 'paying huge attention to the south of Italy', not least by siting its rolling stock maintenance workshop at Nola Interport near Napoli. Sciarrone was adamant that 'we don't want to be the maintainers of the trains', and for this reason the company considered it best 'to entrust the manufacturer' with the job.
Personnel
Around 150 to 200 staff will be needed to maintain the fleet, providing employment in the Napoli region, and NTV expects to have as many as 1 000 employees on its payroll within three years. Of these, 120 will be train drivers and 500 will be onboard staff, at least some of whom will be expected to speak languages other than Italian. A further 100 technicians will be needed for train operations, together with 200 station personnel. Cleaning, security, catering and call centre sales will be outsourced to other companies, providing 'secondary employment' for up to 1000 people, according to Sciarrone.
NTV aimed to look after its customers from the moment they arrived at their departure station until the time they left the destination station. This meant that the company would have its own premises at stations, which in Roma would include both Termini and Tiburtina. NTV wanted to be 'best in class' in terms of the train interior, although Sciarrone admitted that the company had not yet decided how many classes would be provided or what they would be. Trains would cater for business travellers, tourists and young people, he said, with facilities for people who wanted to work, read or simply be quiet.
Italdesign-Giugiaro had been chosen to develop the interior styling, and NTV was very conscious of the need to choose colours, materials, and a seat pitch that would suit its wide range of customers.
Whereas a few years ago travel was seen as 'lost time', NTV was aiming to ensure that its customers remained 'connected with their world' while they were on board. If someone wanted to watch the one o'clock news, they would be able to do so, and if they followed a UEFA Champions League match on Wednesday evenings, 'we are working to make this possible on our train', with full wi-fi and internet facilities.
Sciarrone said that NTV had invested a total of €900m, of which €650m was for the initial fleet of trains, €100m was for construction of the maintenance depot, and €150m represented start-up costs including staff training. Advertisements seeking applications for NTV's first 50 train drivers would be published in Italian newspapers on July 16, as the driver training period was two years.
Break-even was envisaged in the third year of operations. In 2011 NTV would make a loss, with lower losses in 2012, Sciarrone affirmed, forecasting that 'we will achieve the first margins in 2013'. The target was to reach 'a market share of 20%' by 2015. In his closing remarks di Monte-zemolo commented that NTV was making the 'Italian journey' in co-operation with France. Perhaps one day, he hinted, NTV would have an interest in operating there.
Table I. NTV shareholders
Totale MDP Holding (shares distributed equally between Luca di Montezemolo, Diego Della Valle and Gianni Punzo)
54·5%
IMI Investimenti (shares held by Intesa Sanpaolo)
21·4%
Generali Financial Holdings FCP-FIS
16·1%
Nuova Fourb (shares held by Bombassei)
5·4%
Reset 2000 (shares held by Sciarrone)
2·6%
Table II. NTV milestones
December 2006
Company founded
February 6 2007
Operating licence granted by Ministry of Transport
July 28 2007
Title of Authorisation obtained and agreement signed on Universal Services under which NTV pledges to cover costs of service contracts for unremunerative segments
January 17 2008
Contract with Alstom for 25 AGV trainsets announced
January 17 2008
Framework agreement signed with infrastructure manager Rete Ferroviaria Italiana in which NTV is granted paths
February 5 2008
Alstom rolls out AGV demonstration trainset
July 15 2008
Public launch in Roma
September 2010
NTV's first AGV trainset due to be delivered by Alstom
March 2011
Four AGV trainsets to be available for commercial service
Spring 2011
Start of public service, building up to 54 trains a day by year end
Table III. NTV's planned service pattern
Segment
2011 timing
2008 timing
Daily return trips in 2011
Torino – Milano
1 h 00 min
1 h 22 min
8
Milano – Roma non-stop
3 h 00 min
4 h 05 min
3
Milano – Bologna - Firenze – Roma
3 h 10 min
4 h 30 min
13
Milano – Bologna
1 h 00 min
1 h 34 min
14
Bologna – Firenze
35 min
58 min
18
Firenze – Roma
1 h 30 min
1 h 38 min
18
Roma – Napoli
1 h 10 min
1 h 27 min
16
Roma – Firenze – Bologna – Venezia
4 h 05 min
4 h 20 min
4
Napoli – Salerno
30 min
35 min
5
Roma – Bari
3 h 55 min
4 h 37 min
3