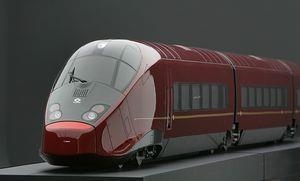 ITALY: The red and gold colour scheme which will be carried by the 25 AGV trainsets ordered by Europe's first open-access high speed operator was unveiled in Roma on July 15.
Nuovo Trasporto Viaggiatori announced in January that it had chosen Alstom's Automotrice à Grande Vitesse design for its high speed fleet, which will be used on 300 km/h open-access services within Italy from 2011. The €650m contract covers the provision of 25 11-car trainsets, with an option for a further 10. Alstom will assemble 14 at its La Rochelle plant, while 11 will be produced at Savigliano in Italy.
NTV plans to operate services on the Torino - Milano - Napoli - Salerno, Roma - Bologna - Venezia and Roma - Napoli - Bari routes. A maintenance depot is to be built at Nola near Napoli, and Alstom will be responsible for maintaining the trains for 30 years at an additional cost.
The colour scheme was unveiled by NTV's Italian founders, Luca Cordero di Montezemolo, Diego Della Valle, Gianni Punzo and Giuseppe Sciarrone, along with Alstom Chairman & CEO Patrick Kron, and Chairman & President of Alstom Transport Philippe Mellier.
Rolled out in the presence of President Sarkozy on February 5, Alstom's seven-car AGV demonstrator train Pégase is currently undergoing dynamic trials on the Velim test circuit in the Czech Republic.