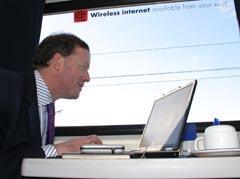 SWEDEN: On-train internet technology company Icomera announced an agreement to acquire UK hardware supplier Moovera Networks on July 22.
'For some time now Moovera and Icomera have been addressing the same markets from different directions,' said Moovera founder Jim Baker. 'While Icomera has focused on sophisticated and complex rail systems, we have been targeting the broader market for internet connectivity on road transport and outdoor networks.'
Icomera provides backhaul-agnostic communications gateways to support satellite, cellular and trackside networks with an in-vehicle system which switches to the best wide-area network without session interruption. Icomera CEO Ola Sjölin said that Moovera had established 'an impressive customer base that in many instances overlaps with our own', with its Moovbox family of broadband gateways. Moovera will become Icomera's UK office, and Icomera will adopt the Moovbox brand for its combined product line. Financial terms were not disclosed.