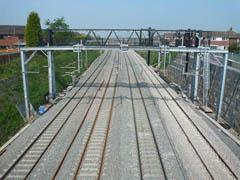 UK: Siemens has installed a laser-based object detection device at Old Oak Common depot in London, where it maintains the Class 332 and Class 360 EMUs used on services to Heathrow Airport.
The Out of Gauge Warning System developed by Zonegreen uses a series of non-contact laser rangefinder sensors to ensure that vehicle bodywork is within the correct loading gauge as it leaves the depot.
Any infringement - for example a raised side skirt cover - would trigger an illuminated stop warning to the driver. The device can be programmed with a range of optional functions, including a delayed response to avoid triggering false stop warnings. It can also be extended to monitor an entire vehicle bodyside with a multiple sensor arrangement.
The equipment uses a low-power red laser diode to detect the distance to the side of the train. It is currently going through a performance proofing period.