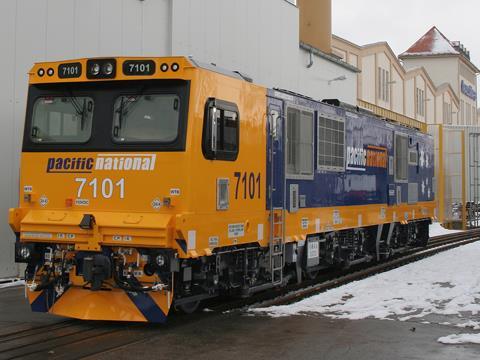 AUSTRALIA: Asciano confirmed on March 16 that it was putting up for sale two of the country's most recognised transport and logistics brands: Patrick Stevedores and Pacific National. In the face of the global financial crisis, the company plans to sell either the container port business or its rail freight operations in order to pay off some of its A$4·5bn debt.
Asciano was formed in June 2007, after Toll Holdings agreed with regulatory authorities to split the infrastructure business from its logistics operations. On February 25 the company announced a net loss of A$92m for the first half of 2008-09, including an A$82·8m write-off for goodwill impairment. Earlier that month Asciano's share price had fallen by 23% in five days to A$0·83. By March 17 the shares were trading at A$0·73, valuing the company at around A$500m, or just 7% of its peak value.
Announcing the first half loss, Asciano Chairman Tim Poole revealed that the company was in 'advanced discussions' to sell PN's coal business unit and had 'received proposals' for other activities, which could generate A$1bn to reduce the company's debt. There was considerable speculation that Queensland Rail had approached the Asciano board with a proposal to buy either the entire rail division or its intermodal operations, but both Asciano and QR refused to comment.
One business that was already up for sale was PN's Tasmanian rail operations, but this had attracted a 'reasonably subdued' response, according to the island's Infrastructure Minister Graeme Sturgess. On February 25 he said Asciano had told him that PN was pulling out of Tasmania, and it had ended the sale process, although he remained committed to working with the company 'to ensure that rail freight remains a viable option in Tasmania'.
One possibility under discussion is that some of Asciano's operations could be purchased by Chinese interests, given that similar deals have already been proposed, particularly in the mining sector. This is regarded as politically sensitive, as the port and rail businesses are seen as essential to the Australian economy.