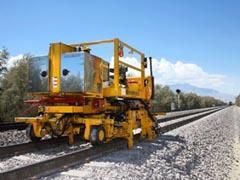 SWEDEN: Pandrol International has purchased Rosenqvist Rail, a Swedish manufacturer of equipment for the installation and extraction of rail fastenings such as Pandrol's Fastclip.
Rosenqvist also designs and builds rail and sleeper handling tools, ballast regulation equipment, trailers and attachments for road-rail vehicles.
Pandrol sees Rosenqvist as a 'a small but innovative company with excellent growth prospects over the next few years', and plans to use the international reach of Pandrol and its parent Delachaux Group to grow Rosenqvist beyond its core European market.
Founder Anders Rosenqvist will continue to manage the business on a day to day basis.