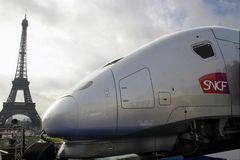 FRANCE: SNCF and the Haute-Normandie region have agreed a package of measures to improve passenger services on the Paris - Rouen - Le Havre main line. A regular-interval timetable is to be introduced to the route in December, increasing the number of services by 15%.
SNCF has also committed to more demanding punctuality targets as well as reducing the number of last-minute cancellations to 48 a year by 2011. Direct TGV services to Roissy and Strasbourg are to be introduced from June 2009.
The agreement also provides for the refurbishment of 89 Corail coaches deployed on the Paris - Le Havre route, as well as 41 double-deck cars. With the aim of replacing the TER multiple-unit fleet by spring 2009, Haute-Normandie has ordered 16 double-deck trainsets, to be delivered from November 2008, as well as 33 AGC DMUs which have been phased into service since 2004.