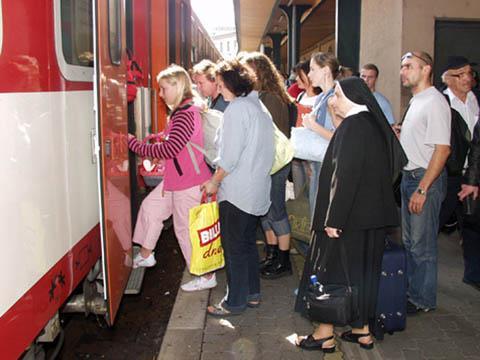 UK commuter operator Merseyrail has awarded Cityspace a contract to install seven Smart Point touch screen terminals to provide ticket sales, passenger information and journey planning at five unstaffed stations. Wireless links provide real-time data feeds to the machines, which go live next month.
The total number of Pasmo and Suica smart cards sold in Japan reached 30 million on January 18, the 307th day of availability. The cards will be inter-available across 23 rail and 31 bus operators in the greater Tokyo region.
This year online ticket retailer TheTrainline will pilot Trainline Smart, a smart ticketing system meeting the UK's national ITSO specifications. First Onedemand is supplying its Authentisic Mobile system to provide secure access to ticketing accounts from mobile phones.
On March 20 Eurostar began selling Transport for London's Oyster smart cards on services to London. The Visit Oyster branded cards cost £12, including £10 of credit which can be used on London Underground, Docklands Light Railway, Tramlink and buses, as well as certain suburban rail services. 38 million journeys a week are now made using the 17 million Oyster cards issued since the smart card was launched in 2003. Cash fares have been significantly increased to encourage the use of Oyster, and less than 3% of single Underground and bus tickets are now bought with cash.
Following trials C2E Technology Labs and Submedia are equipping the Kashmere Gate to Chandni Chowk section of Delhi Metro Line 2 for in-tunnel advertising. C2E Vice-President Rachna Vohra said it will appeal to advertisers as DMRC records accurate ridership figures.
Display Technology produced custom 32 inch Hibrite TFT display screens for Ebbsfleet International station on the Channel Tunnel Rail Link (RG 11.07 p699).