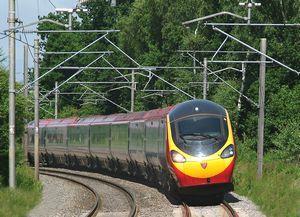 THE SURGE of passengers riding Virgin's tilting Pendolinos after the UK's West Coast Main Line was upgraded for 200 km/h operation has created an urgent need for two extra vehicles in each of the 53 nine-car trainsets.
Under a 'handshake deal' valued at around ?158m, reached on January 3, Angel Trains was supposed to procure the extra cars from Alstom and lease them to Virgin Trains. A Notice to Proceed was due to be issued to the manufacturer by January 31, so that the extra cars would be ready for adding when the trains come up for their first heavy overhaul at the end of 2008.
But just before the end of January, Royal Bank of Scotland - which owns Angel - withdrew from the deal. The reason given was uncertainty created by the Department for Transport at the end of last year, when it asked the Office of Rail Regulation to investigate alleged overcharging of franchised train operators for the lease of rolling stock formerly owned by British Rail.
ORR has said it is 'minded' to refer DfT's complaint to the Competition Commission, but the legal position is that any investigation would have to cover the whole train leasing market. RBS fears this could lead to leasing charges for Pendolinos, potentially including the extra cars, being reduced by order of the Commission. DfT is apparently anxious to see the lengthening go ahead, but has no power to suspend or limit the scope of any investigation by the Commission, which could last two years. Other rolling stock acquisitions could also be affected at a time when new trains are badly needed to cope with sustained growth in rail travel.