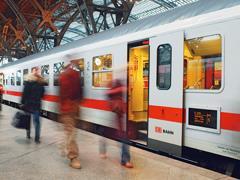 In a decision made at a shareholders meeting on January 9 Czeslaw Warsewicz has been replaced as President of PKP Intercity by former PKP PLK President Krzysztof Celinski, while Technical Director Krzysztof Sopa has been succeeded by Krzysztof Kolodziejski.
PKP PLK board members Miroslaw Pawlowski and Józef Jezewicz have left their positions as Director, Finance & Economics, and Director, Infrastructure Maintenance, respectively; their successors have not yet been named. Zbigniew Szafranski has stepped in to fill the post of President on a temporary basis, following Celinski's move to PKP Intercity.
At PKP Group's IT division, PKP Informatyka, Wlodzimierz Smigiera has been dismissed from his position as President and is succeeded by Marcin Trzaska. Meanwhile, PKP Cargo has undergone an organisational restructure and now has 16 regional divisions, each headed by its own director.
Alhaji Ibrahim Bio has succeeded Diezani Alison-Madueke as Nigeria's Minister for Transport.
Ray LaHood has been appointed Secretary of Transportation by new US President Barack Obama.
Petr Bendl has been named the Czech Republic's Minister for Transport, replacing Ales Rebícek.
Deepak Krishan has been appointed General Manager at India's Eastern Railway.
Michel Quidort of Veolia Transport takes over this month as President of the European Passenger Train Operators association in succession to Tony Depledge of Arriva.
Lies Gaaikema has been appointed to the new position of Director, Rail Freight, at Dutch infrastructure manager ProRail.
Marcus McAuliffe has been named Executive General Manager, QR Coal, and Ken Lewsey becomes Executive General Manager, QR Freight, at Queensland Rail.
Christopher Nagel has succeeded Kevin Bagby as Vice-President, Finance, Chief Financial Officer & Treasurer at FreightCar America.
Dr Raimund Abele has been named Executive Vice-President, Original Equipment Sales, Business Development & Engineering at GHH-Valdunes.
Radu Berceanu has been named Romania's Minister for Transport, succeeding Ludovic Orban. Berceanu was previously appointed to the same position in 2006 but was succeeded by Orban in 2007.
Philippe Favre has replaced Bruno Cotté as Senior Vice-President, International Network, at Alstom.
Ruth Ravitz Smith has been appointed Vice-President, Government Affairs, and Timothy Brown will be Director, Communications, at Alstom's office in Washington DC.
George Elsmore, formerly Program Manager at the State of California's Rail Safety Branch, has been appointed Vice-President, Rail Safety & Compliance, at Veolia Transportation.
Mauro Moretti has been elected Chairman of CER, succeeding Aad Veenman who stepped down after serving a four-year term.
Matthew Welbes has been appointed Executive Director of the USA's Federal Transit Administration.
Mikhail Kostiuk has been named Director General of Ukrainian Railways.
Luc Charlemagne has been named Director, Finance, at Bombardier Transportation Germany, while Dr Klaus Baur is to continue as Chairman for a further three years.
James Redeker is to head the Connecticut Bureau of Public Transportation.
Arne Wijnmaalen, CEO at Nieaf-Smitt, is to take on the additional role of CEO at Mors-Smitt Holding.
Stephen Dilts has been named New Jersey's Transportation Commissioner.
Paul Goodhand has been appointed Managing Director at Knorr-Bremse Rail Systems (UK).
Rick Haythornthwaite has been named Designate Chairman of UK infrastructure operator Network Rail.
Hans-Peter Schär will step down as Director General of Zürich public transport operator VBZ in mid-2009, after which he intends to return to the private sector.