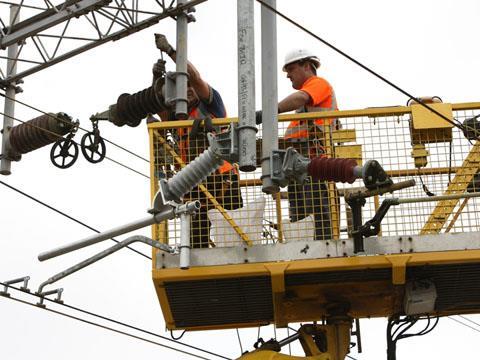 Philippe Gauderon takes over as Director of Infrastructure and Board Member at Swiss Federal Railways with effect from January 1. Formerly Deputy Director of the Passenger business and Head of Passenger Operations, he is being succeeded on an interim basis by Passenger Rolling Stock Manager Manfred Haller. Gauderon replaces Dipl-Ing ETH Hansjörg Hess, who has decided to step down from the SBB board after four years at the head of the Infrastructure division. Hess will continue to report to SBB President Andreas Meyer, and will now concentrate on special projects including technical innovation as well as representing SBB in international forums.
Friedrich Smaxwil has replaced Didier Roussel as head of Siemens Transportation Systems France.
Doris Bures was sworn in as Austria's Federal Minister for Transport, Innovation & Technology on December 2.
Kristian Beucker has taken up the post of Managing Director of Voith Railservices. He was previously Managing Director of Talgo (Deutschland).
Milovan Markovic has been appointed Director General of Serbian Railways.
Matthew Tucker has been named Executive Director of San Diego's North County Transit District. Charles Badger has temporarily filled Tucker's previous position as Director of the Virginia Department of Rail & Public Transportation while a permanent replacement is sought.
Sowmya Raghavan has been named Financial Commissioner at the Indian Ministry of Railways.
Hubert Guyot has been named Managing Director of Dutch passenger transport operator Connexxion.
Maria Ramos is to step down as CEO of South African transport holding company Transnet in March.
Jose Villarreal has been elected to the board at Union Pacific.
David Ross has stepped down as Chairman of UK passenger operator National Express. Tim Score has taken over the post on a temporary basis until a permanent successor is appointed.
Luther Diggs has been appointed Assistant General Manager, Operations, at the Southeastern Pennsylvania Transportation Authority.
Andrew Haines has decided to step down from his post as Managing Director of FirstGroup's Rail Division and Chief Operating Officer at First Great Western. He has been succeeded as FGW Managing Director by Mark Hopwood.
Louis Renjel has been appointed Vice -President, Strategic Infrastructure Initiatives at CSX.
Csaba Molnár has been named Hungary's Minister for Transport. He succeeds Pál Szabó, who resigned in October (RG 11.08 p910).
Abdelaziz Chaabane has been elected Chairman of the Union of African Railways, succeeding Siyabonga Gama who stepped down at the end of his two-year term.
Rhonda Faught, New Mexico's Transportation Secretary, has retired.
Milan Matzenauer has been appointed Deputy Director-General for Property Administration at Czech Railways, replacing Petr David. Rostislav Novák has taken over as Director of Traction & Rolling Stock, succeeding Jan Paroubek, and Jirí Nálevka is Director of CD's Passenger Traffic Business & Conception.
Rob Holden has been appointed CEO of Cross London Rail Links.
Thierry Ossent has been named Deputy Director General at French transport network operator RATP Développement. Philippe Lorand becomes Director, Development, and Laurence Le Blanc is International Director.
Paul Johnson, Managing Director of Knorr-Bremse Rail Systems (UK), has become Chairman of the UK's Railway Industry Association.
Eriks Šmuksts and Maris Gavars have been elected to the board at Latvian Railway.
Steve Clayton and Veronica Palmer have both decided to retire from the Arriva board in April. New member Angie Risley will join in March.
Ignacio Uría Mendizábal, joint owner of Altuna y Uría, a company involved in the construction of high speed rail routes in the Basque Country, was killed by terrorist organisation ETA on December 3.
Joseph Boardman has been appointed President & Chief Executive Officer of the National Railroad Passenger Corp for a one-year term beginning on November 26. He takes over from William Crosbie, who has been acting CEO of Amtrak since the resignation of Alexander Kummant on November 14 (RG 12.08 p978).
The appointment will give the Amtrak board time to seek a permanent replacement for Kummant, who left after a reported disagreement over financing provisions in the recent Amtrak reauthorisation legislation.
Boardman had previously served as Federal Railroad Administrator since April 2005 and was the Department of Transportation's representative on the Amtrak board; before that he had been Commissioner of the New York State DoT from July 1997. He is succeeded at the FRA by former Deputy Administrator Clifford Eby.
Meanwhile, President-elect Barack Obama has nominated Mortimer Downey, Jane Garvey and Michael Huerta to lead the transition of the Department of Transportation to the new administration.