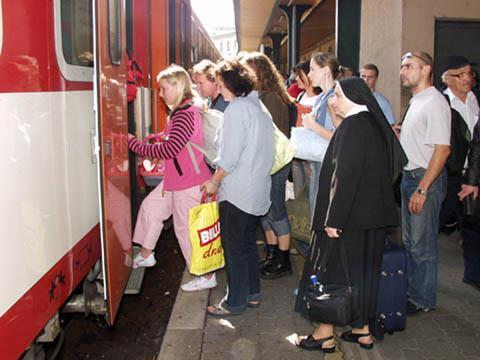 Minoo Akhtarzand, Chief Executive of Swedish infrastructure manager Banverket, was elected a Vice-President of the association of European Rail Infrastructure Managers at the EIM General Assembly in Warszawa on June 4. Akhtarzand became CEO of Banverket on February 1 2008, having previously served as the head of the County Labour Board of Uppsala.
Lord Andrew Adonis became the UK Secretary of State for Transport in the cabinet reshuffle of May 5, following the resignation of Geoff Hoon. Sadiq Khan was appointed Minister of State for Transport, presenting transport business in the House of Commons and responsible for city and regional networks including London and Crossrail. Chris Mole has been appointed Parliamentary Under- Secretary of State for Transport and is responsible for national networks.
Paul Blumenthal is to step down from the Swiss Federal Railways management board and as head of the passenger division with effect from the end of September. His deputy, Vincent Ducrot has been acting head of the division since February and will remain in the role until further notice.
Toni Hankins, the joint founder of sensor, lubrication and monitoring equipment supplier Rowe Hankins, stepped back from front line management to become Executive Chairman on June 7. European Sales Manager Peter Michalke (right) has also retired.
Dr John Tunna is to direct the newly-formed Passenger Rail Business Unit at Transportation Technology Center Inc. He has more than 30 years of experience in track and vehicle analysis including managing TTCI's transit projects in South America, the UK and Australia.
Australian operator QR has appointed Rick Woods to head the intermodal arm of its national freight business. Based in Melbourne, he joins QR Freight from warehousing and logistics company Swire Cold Storage where he was CEO.
With the retirement of Hans-Kaspar Dick, on June 11, Werner Marti was elected Chairman of the board of AlpTransit Gotthard, the Swiss Federal Railways subsidiary building the Gotthard base tunnel.
Jaroslav Král became new Under-Secretary for Railways at the Czech Ministry of Transport on May 18.
Ukraine's Minister of Transport & Communications Yosyp V Vinskyi resigned on June 18 following a dis-agreement with the Prime Minister over funding for the UEFA Euro 2012 football championship.
Labor Member for parliament for Bennelong Maxine McKew has been appointed Australia's Parliamentary Secretary for Infrastructure, Transport, Regional Development & Local Government. A former television journalist, McKew will assist with infrastructure roll-out, focusing on community infrastructure and local government.
Therese Watkins McMillan has been appointed Deputy Administrator of the US Federal Transit Administration. She was previously deputy executive director of policy for the San Francisco Bay Area Metropolitan Transportation Commission.
On June 3 Tomasz Moraczewski became President of Polish regional passenger business PKP PR, succeeding Jerzy Kriger who became President of the supervisory board.
On April 27 Roman Bocek was named as Chairman of the steering committee of Czech national railway CD, replacing Petr Slegr. Pavel Skvára has been appointed as Vice-Chairman. Petr Svagr took over as CD's Deputy Director General for Personnel on May 20, succeeding Milan Ruttner. Robert Cerný took over as Director of Passenger Traffic on April 29, replacing Jirí Nálevka, and Dagmar Holadová was appointed Director of Technology with effect from April 15, replacing Juraj Rakovský who has taken over as Director-General of ?CD Telematika.
National Railways of Zimbabwe General Manager Air Commodore (retd) Mike Karakadzai was elected President of the Southern African Railways Association at its 28th board meeting. The new Vice-President is Ghan Swaroop, CEO of Companhia dos Caminhos de Ferro da Beira in Mozambique.
The board of MTR Corp has re-appointed C K Chow as Chief Executive Officer for the period from ?December 1 2009 to December 31 2011. He has been CEO since December 1 2003.
Dmitry Yakshin has been appointed Director General of Ural Railway Engineering, succeeding Anatoly Sbalnikov who moves to parent company Sinara Transport Machines as Technical Director.
Frank Sennhenn replaced Ulrich Homburg as Chairman of DB Regio from June 1, while retaining the position of Production Director until a successor is found.
Two new members have joined the California High Speed Rail Authority board. Former member of the California legislature and an economic consultant Richard Katz was appointed by Governor Arnold Schwarzenegger, who also re-appointed David Crane. Trade union business manager Russell Burns was appointed by Assembly Speaker Karen Bass.
UITP's EU Committee has elected Arriva's Director of Transport Policy Tony Depledge as its President. He succeedes Guido del Mese, General Manager of Asstra, who chaired the committee for four years.
Karel van Miert, European Commissioner for Transport in 1989-92, died on June 22 aged 67, after reportedly falling from a ladder.