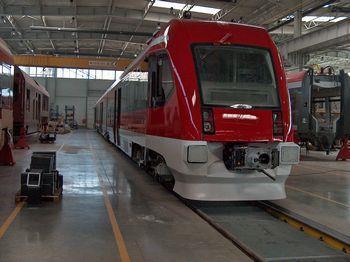 EUROPE: This month Polish rolling stock manufacturer PESA will deliver the first of 23 three-car DMUs ordered by southern Italian regional railway Ferrovie del Sud Est for use on services from Bari.
An initial order for 13 units signed in June 2006 was followed by an option for a further 10, with deliveries running to the end of 2009. The first three-car DMU produced by Pesa, the 219M is 54·8 m long, 2 890 mm wide, and weighs 98·5 tonnes. Each unit has two Voith Turbo Custompacks rated at 504 kW, giving a top speed of 120 km/h.
PESA is supplying Ukrainian Railways with a further four Type 620M DMUs, following on from four supplied along with a single type 610M inspection vehicle in 2004. The first two from the recent order have already arrived in Ukraine, with the use of gauge-changing wheelsets permitting delivery by rail. Talks are underway for the development of an EMU variant.
Lithuanian Railways has also ordered two 620M DMUs for delivery in early 2009.
Ukrainian Railways has ordered an additional four 1 520 mm gauge Type 620M DMUs; it is interested in an EMU version.
This month Ferrovie del Sud Est will take delivery of the first of 23 three-car DMUs ordered from PESA.