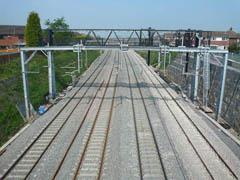 This month is expected to see the start of operations across the Friendship Bridge linking Thailand and Laos. A ceremony was held on February 20 to mark completion of the 3·5 km link between the SRT railhead at Nong Khai and a Laotian terminal near Vientiane.
Faced with losses of more than US$4m a year, Chilean state railway EFE has withdrawn off-peak services on the Biotrén commuter network in Concepción, where trains now operate only from 06.40 to 10.00 and from 16.00 to 21.20. Despite a 14·2% increase in passenger traffic, EFE made a total loss of US$76m in 2007 when it received US$55·1m in support from the government.
Spanish regional operator FGV has formed a joint venture with private companies to operate freight trains on the national network from the port of Valencia to destinations in the north of Europe from 2009. One of the shareholders is businessman Juan Cámara who heads Logitren Ferroviaria SA which is seeking an operating licence from the Ministry of Development.
Feasibility studies for a direct rail link between the international airports in Shenzhen and Hong Kong are to begin this year, according to the Mayor of Shenzhen Xu Zhongheng. The 30 km route would offer a journey time of just 20 min, he predicted, compared with 45 min using the current Skypier ferry service. Construction of the line is not expected to start before 2011.
The government of Rwanda confirmed in February that it hoped to start work this year on the long-planned rail link from Kigali to the Tanzanian network at Isaka Dry Port. Construction of the 480 km line is expected to take around five years, and would be mainly financed by the African Development Bank.
Construction of a high speed rail network linking London to the Midlands, North and Scotland could generate economic benefits to the UK worth more than £60bn, according to Atkins. Updating a report which had been prepared for the former Strategic Rail Authority in 2001-03, the consultancy suggested in March that the network could be completed by 2026 at a cost of up to £31bn.
Upon completion of an infrastructure upgrade for 100 km/h operation, Spanish metre-gauge operator FEVE is planning to launch a high-frequency shuttle service between Santander and Torrelavega using refurbished Class 3800 EMUs. Every 15 min trains will leave the end points of what is FEVE's second busiest route for passenger traffic after Santander - Liérganes.