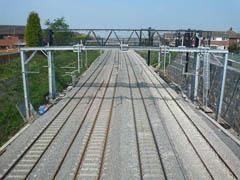 African Development Bank has agreed to provide US$8·15m to fund a viability study for the proposed 1435 mm gauge railway between Dar es Salaam, Isaka, Kigali, Keza and Musongati, which will connect Tanzania, Burundi and Rwanda.
BHP Billiton and Arcelor have opened discussions over a possible alliance in West Africa, under which Liberia's Bong Mining Railway between Buchanan and Yekepa, which is currently being renovated by Arcelor, could also be used to serve BHP's Mount Nimba mine across the border in Guinea. This is expected to produce between 20 and 40 million tonnes a year from 2013.
Polish infrastructure manager PKP PLK has commissioned Sender sp zoo to undertake feasibility studies for a cross-city tunnel in Lodz, which could eventually carry the high speed line from Warszawa to Poznan and Wroclaw. Work is due to start this year on four-tracking the line between Widzew and Lodz Fabryczna, where the present terminus will be replaced by an underground central station from 2012.
The Mexican state of Aguascalientes is evaluating a US$380m suburban rail project developed by design firm RVDG. The proposal recommends a 47 km route with 11 stations running north to south via Rincón de Romos, Pabellón de Atreaga and San Francisco de los Romo, and using an existing right-of-way through Aguascalientes city centre. Funding would be provided by the private sector (42%), and federal and state governments. If approved, tenders for civil works and a 30-year operating concession may be launched this year.
The Syrian government is currently reviewing a feasibility study for Damascus metro prepared by Systra with EIB funding. A network of four lines totalling 52 km is envisaged, and the city expects to invite bids in 2010 to design the US$1·6bn Green Line, a 16·5 km route with 17 stations running from Moadamiyeh to Qaboun.
Proposals for the joint operation of high speed services between Spain and Portugal are to be presented by December 31 2010 under the terms of an agreement signed by the presidents of RENFE and CP.