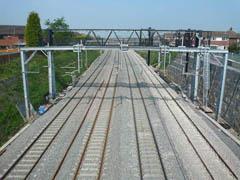 According to its legislative programme presented to parliament on November 2, the new government of Portugal hopes to have the high speed line between Lisboa and Madrid in service by the end of 2013. Three bids have been received for the PPP concession to build the 34 km section between Lisboa and Poceirão (RG 5.09 p10).
Shortlisted bidders for the PPP concession to build LGV Sud Europe Atlantique between Tours and Bordeaux have until December 15 to submit their best and final offers. French infrastructure manager RFF hopes to select a preferred bidder by the end of March and sign a contract during the summer of 2010. Meanwhile, preliminary offers for the LGV Bretagne-Pays de Loire concession (RG 8.09 p9) are due by December 16.
Following the signature of co-operation agreements by the presidents of Argentina and Chile on October 29, a bi-national authority is to be formed to take forward construction of a rail base tunnel under the Andes. Promoter Corporación América is reported to have received US$10m in government funding for geological studies; total project cost is estimated at $3bn.
The EBRD is considering providing Georgian Railway with a loan of up to €125m to co-finance a €360m railway bypassing central Tbilisi. EIB would also participate in the project, which will see existing rail facilities relocated to free land in the city centre for redevelopment.
The Spanish Ministry of Development is proposing to upgrade the railway between San Roque and La Línea de la Concepción, close to the border with Gibraltar. The €30m project would improve access to port facilities and petrochemical plants on the north shore of the Bay of Algeciras.
A report commissioned from consultant Frost & Sullivan by Neptune Orient Lines recommends that Egypt should examine rail freight business models adopted successfully in countries such as India. Private firms could be allowed to provide freight services on designated corridors, with the government retaining overall ownership.
The Brazilian government is expected to provide R$30m from its PAC stimulus package to fund engineering design of the proposed Ferroeste extension to Paranagua and environmental studies for other expansion projects (RG 4.09 p61).
The Transport Ministry of Mecklenburg-Vorpommern is expected to call tenders shortly for a 10-year contract to operate the Rostock S-Bahn network, following a trial under which local tram company RSAG is operating the Wismar – Rostock – Tessin line as subcontractor to DB Regio. A decision on the new operator is expected in mid-2010.