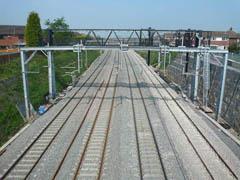 Canadian consultants are to start work this month on a 12-month feasibility study into the proposed railway linking the Mmamabula and Morupule coalfields in Botswana with Walvis Bay in Namibia. The World Bank has provided a US$44000 grant, and the two countries will each contribute US$82000.
The New Zealand government is to study PPP funding for the new Auckland suburban EMU fleet. 'Public-private partnerships can be a sensible way to procure this kind of expensive, long-life asset', said Transport Minister Steven Joyce after visiting Australia, where a A$3·6bn PPP is being used to fund 78 eight-car double-deck EMUs for Sydney.
National Railways of Zimbabwe is inclu­ded on the government's 'rational­isation, reconstruction and transform­ation agenda.' Finance minister Tendai Biti said NRZ was among 'high-value' state companies which have 'huge potential' but need capitalisation and good management.
Greater Toronto transport authority Metrolinx is to study electrification of the entire GO Transit rail network. An external advisory committee of independent technical experts, community representatives and passengers will advise on the terms of reference, with the study to be completed in early 2010.
The Spanish government has brought forward a programme to make the national rail network accessible to mobility-impaired passengers by 2014. A total of €479m is to be spent on stations and €305m on improving the accessibility of 480 existing trainsets.
Noting that the container market in South Africa has grown at around 10% per annum over the past five years, CEO Siyabonga Gama advocates the creation of a transhipment hub to capture market share as part of Transnet Freight Rail's five-year capital plan. 'Our projects cut across rail and ports and focus on Ngqura [a new port near Port Elizabeth] and Cape Town', he said.
With a view to moving 400 000 tonnes of soya, maize and wheat a year by rail for export via Paranaguá, Paraguayan grain producers are considering setting up their own handling facilities in the Ferro­este terminal at Cascavel in Brazil. Up to 100 wagons could be acquired under the framework agreement with Amsted Maxion (RG 4.09 p62).
At the 1520 Forum in Sochi the Russian, Ukrainian, Slovak and Austrian national railways signed an agreement to create a joint venture to operate the planned Moscow - Kyiv - Uzhgorod - Bratislava - Wien broad-gauge corridor, now costed at US$4·5bn (RG 1.09 p52).