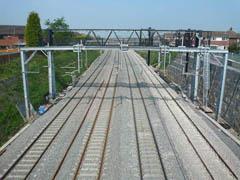 At a meeting with his Iranian and Afghan counterparts, the Foreign Minister of Tajikistan proposed that a railway which is planned to serve a Chinese copper mining concession at Aynak, east of Kabul, be routed through Kunduz, Panj and then to the Tajik capital Dushanbe. A line would be built up the Vakhsh River valley and onwards to Kashi in China. This route avoids the difficult Wakhan corridor.
French national operator SNCF is reported to be looking at acquiring a stake in Italy's Nordcargo, the freight business of Gruppo Ferrovie Nord Milano.
Adelaide to Darwin railway concessionaire FreightLink announced on May 19 that it had appointed UBS to advise on the sale of the business, and expressions of interest were now being sought.
Details of a feasibility study sponsored by the South Korean government for a 334 km high speed link between Hanoi and Vinh were published by Vietnam's Ministry of Transport & Communication in conjunction with Korea International Co-operation Agency on May 12. The US$12·9bn scheme would permit 200 km/h trains to link the two cities in 2 h.
PTKA in Indonesia is planning to set up a separate subsidiary to run suburban trains in the greater Jakarta region. Private companies may be invited to invest in the new company.
US company General Electric is understood to be negotiating a contract to help rehabilitate the 424 km ZRS network in Bosnia's Republika Srpske.
Inekon of the Czech Republic is reported to be bidding for a concession to run the 447 km Albanian Railways network for up to 35 years. Funds would come from a KC15bn credit from export bank Egap.
Revenue service on the Buenavista - Cuautitlán suburban route in Mexico City (MR 3.08 p23) is now expected to commence as far as Lechería on June 1, with the remaining section due to open in October following completion of road and pedestrian overbridges.
With the aim of handing over the 100 km Latacunga - Quito section on June 25, the 100th anniversary of the completion of the Guayaquil & Quito Railway, work is proceeding to restore the national network in Ecuador under a US$20m programme funded by the government.
The potential for reviving the national network in Costa Rica for freight traffic is to be examined during a seven-month study funded by the Central American Bank for Economic Integration.