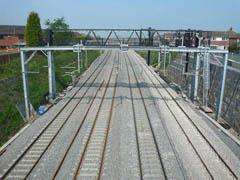 Ferrocarriles de Gran Canaria SA has been set up by the island government to manage the construction of a railway on Gran Canaria. A technical consultant will be employed to prepare tenders for project planning on the section between the capital and San Bartolomé de Tirajana, on which construction is expected to begin in 2011.
Addressing a donor conference at the African Development Bank in Tunis on January 31, DB International's Africa Director Emile Muvunyi suggested that tenders for construction of a 700 km railway linking the Rwandan capital Kigali with Isaka in Tanzania could be invited in 2010, as detailed planning will be finished in the next 12 months. He said the €3bn project, including a branch to Musongati in Burundi, could be completed by 2014. The infrastructure ministers from the three countries signed a memorandum of understanding for the project in Arusha on January 26.
Tendering is expected to begin shortly for the €200m first phase of the programme to increase capacity at Madrid Atocha station (RG 4.06 p176), where by the time the new line to Valencia opens in 2010 the number of tracks for high-speed trains will have been increased from 11 to 19. Four of these will be on the third cross-city tunnel to Chamartín, now under construction at a cost of €206m.
Brazilian state-owned railway development company Valec confirmed in February that it had postponed tendering for a further section of the North-South Railway, which was due to have been built under a private finance initiative.
Prime Minister of Bangladesh Sheikh Hasina has asked the Ministry of Planning to study conversion of BR's Dinajpur – Panchagarh line to dual gauge, facilitating direct services from Dhaka to the northwest of the country. The National Economic Council has already approved a Tk2·5bn upgrading programme for the metre-gauge route.
Visiting construction sites near Gwangju in January, newly-elected President Lee Myung-bak of South Korea pledged that construction of the 233 km Honam high speed line from Osong to Mokpo would be accelerated. He said the Ministry of Land, Transport & Maritime Affairs would shortly issue a revised programme for the work.
Spain's first privately-financed airport, Ciudad Real Central which opened on December 18 2008, is to have its own station on the adjacent Madrid – Sevilla high-speed line. This is expected to open during the second half of 2009 following the signature of a declaration of intent with ADIF and the Castilla-La Mancha regional government on February 16.